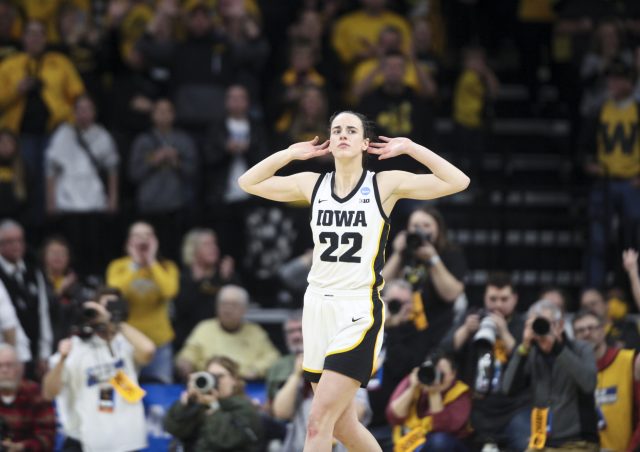 Caitlin Clark has been nothing short of spectacular this season in the NCAA tournament. A junior guard from West Des Moines, Iowa, Clark has had one of the greatest individual seasons for the Iowa Hawkeyes in NCAA history with remarkable offensive numbers.
While Clark has shown big numbers throughout the season, hitting her 43rd career double-double, she had her shining moment this past Sunday, when the Hawkeyes beat Louisville in the Elite Eight, 97-83, securing their spot in the Women's Final Four. Clark finished the game with a triple-double, scoring 41 points, 10 rebounds, and 12 assists. This was the first triple-double in a NCAA tournament game, both men's and women's, since assists became an official stat in 1984 (Pelton, ESPN).
Clark has been awarded the women's basketball AP Player of the Year, and rightfully so. This season alone, Clark averaged 27 points, 8.3 assists, and 7.4 rebounds. She has 984 points this season and over 300 assists, becoming the first player in Division I women's basketball history to do so in the same season (Feinberg, AP News).
The Hawkeyes face the undefeated, number 1 seed South Carolina Gamecocks in the Final Four Friday, March 31 at 9pm ET. Clark is up against the Gamecocks leader Aliyah Boston, who won the AP Player of the Year award in 2022. Tune in to watch these two star players compete for their teams spot in the National Championship game.
Sources:
https://www.espn.com/womens-college-basketball/story/_/id/35964759/caitlin-clark-iowa-final-four-2023-triple-double-41-points
https://apnews.com/article/march-madness-caitlin-clark-player-of-year-ed943aa5f1e86a1bb04505497bd4c9b3
https://hawkeyesports.com/roster/caitlin-clark/