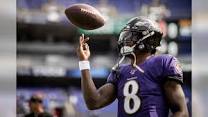 Lamar Jackson, Star Quarterback of the Baltimore Ravens requested a trade from the team on March 2nd. This was after the Ravens placed the non-exclusive franchise tag on him. This allows Jackson to talk and sign an offer sheet with other teams. If he does sign with another team the Ravens have two weeks to match or beat the offer before he signs officially. The Ravens would then be given two first-round draft picks to make up for the loss. 
Despite his impressive resume of being the unanimous MVP in 2019 and making it to five consecutive pro bowls, he has no offers. Several teams around the league have gaps to fill in the Quarterback position and a name and player like Lamar Jackson could really make a difference. These are some of the teams that I think should consider the quarterback….
Tennessee Titans 
The Titans were already looking to replace Veteran Quarterback Ryan Tannehill in the NFL Draft this year. By showing interest in Lamar Jackson the team could be guaranteed to have a solid quarterback this season. Now odds that Jackson would take the offer would most likely depend on the price tag but the Titans have plenty of cap room to add him to the team.
Pittsburgh Steelers
Rookie Quarterback Kenny Pickett threw for seven touchdowns and nine interceptions in his 13 appearances last season. Now I am all for letting rookies develop but are the Steelers patient to let him develop or do they want to guarantee they get a great quarterback in Lamar Jackson? The only issue here for Pittsburgh is that they are over the salary cap so it would complicate things.
Indianapolis Colts 
As we know Indianapolis loves to pick up experienced quarterbacks. We have seen them pick up everyone from Phillip Rivers, Carson Wentz, and Matt Ryan. I would say that the Colts love this strategy but it's hard to say that it has worked out well for them. The Colts also just signed Gardner Minshew which adds to the party in the QB room with Sam Ehlinger and Nick Foles. So if Indianapolis wants to make a deal they have some adjusting to do in the roster. 
Miami Dolphins
The last team that should show interest in Lamar Jackson is Miami. They are confident in Tua but I think after the injury-ridden season he had last year he might not perform as well. They also have two great receivers that would benefit greatly from a QB like Jackson. Miami's only issue is that they do not have a first-round pick to trade so they would have to make some kind of deal.