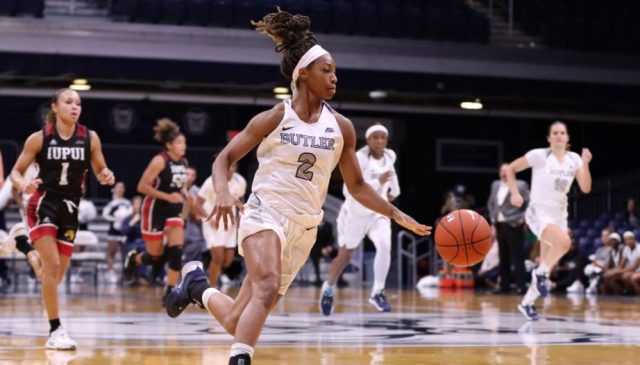 Genesis Parker leads the Bulldogs on the fast break versus IUPUI. The Cincinnati transfer is third for Butler game this season. Photo courtesy of The Butler Collegian.
After dropping two games on the road this past weekend, the women's basketball team is still fighting to finish in the top four teams in the Big East. The team currently sits in third place, but there is still work left to do. Both Seton Hall (4th) and Villanova (5th) have put up good fights against Butler this season. Butler holds two wins over Villanova but has lost its one head-to-head matchup against Seton Hall.
Coming up tonight, the Bulldogs face Creighton at home in Hinkle Fieldhouse. This matchup comes after the team beat Creighton in Omaha by just a slim margin of six points. Following up the game tonight, the Bulldogs will have another home game on Sunday against Providence. This will be the last home game for the season and senior night for Kristen Spolyar, Shae Brey, and Sarah Humphrey. Both games are must wins for Butler if they are wanting to keep their postseason hopes alive.
Just a few weeks ago, the Big East conference put out an article stating that Butler wasn't currently within the four teams that would be given a bid to the NCAA Tournament at the end of the season, despite being among the top four teams in the Big East standings. With their last game of the season being away at Seton Hall, that will be a must win game to hopefully propel the Bulldogs into the tournament.