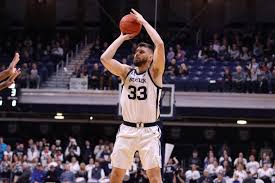 Bryce Golden takes a midrange jumpshot in a game earlier this year. Golden had 17 points in Wednesday's loss at Seton Hall. Photo courtesy of the Butler Collegian.
On this week of Barking Out Loud, Nick Kuster and Butler360Sports Analyst Chelsea Groves sit down and discuss all things Butler Basketball.
Kuster and Groves talk about the 74-72 buzzer beating loss at #16 Seton Hall this past Wednesday and later preview Sunday's game at #15 Creighton. With the last talking point of the show, Kuster and Groves discuss what the rest of the season looks like for the Bulldogs and what they need to do to ultimately make the top 16 in the NET rankings.
It is that time of the year where brackets are being talked about and standings in your respective conference matters. How could Butler move up in the Big East with just four games remaining?
Make sure to check out all stories about Butler athletics on Butler360Sports.com.