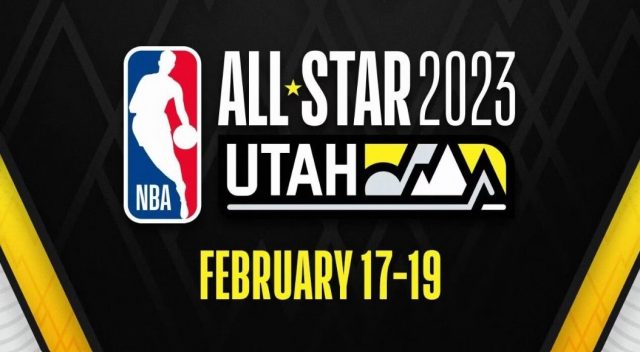 The 2023 NBA All-Star weekend will be held in Salt Lake City, Utah. Graphic courtesy of NBA.com 
As fun as the NBA All-Star game is, it can be even more fun if you have personal stakes on the line. Sports betting is a growing industry in America, and there can even be action taken this weekend in the NBA.
Let's take a look at some of the best line values this weekend that make All-Star weekend even more interesting.
Team LeBron ML -126
A well-known fun fact about the NBA All-Star game is that Team LeBron has never lost since the changing of the format in 2018. James has gone 5-0 in every game so far, and this year he captains his team once more opposite of the Bucks' Giannis Antetokounmpo.
James and Antetokounmpo have faced off twice before, with Team LeBron winning both times. The second game, however, taking place in 2020, was much closer than the first with James' squad sneaking ahead by just two points. Team LeBron defeated Team Giannis by 14 the year prior.
Contrary to previous All-Star games, this year's All-Star draft will take place on the day of the game. But even without knowing the roster of Team LeBron, he still is the rightful favorite and the side to take on Sunday.
For whatever reason, James takes his All-Star captain duties very seriously. He makes each pick with great consideration, and Antetokounmpo has been criticized in the past for his lack of drafting ability. The only reason the line is this close is due to the uncertainty of the rosters, so take advantage of the line now.
Kevin Huerter to win Three Point Contest +650
The Three Point Contest is arguably the toughest of the All-Star Weekend events to pick a winner, as evidenced by Karl-Anthony Towns winning last year. Buddy Hield is currently the betting favorite at just over 4-1, but I like the newcomer Huerter's chances, especially with these odds.
Hield has a Three Point Contest crown to his name already, winning the shootout in 2020. None of the other contestants have won the contest previously.
The two biggest names in this year's event will be Damian Lillard and Jayson Tatum, but this has historically been won by role players. Both Lillard and Tatum have Three Point Contest experience and neither has been very successful.
Many people do not realize how different the Three-Point Contest is from traditional in-game shooting. With just one minute to launch 25 shots, most players refrain from attempting jump shots as they normally would and prefer set shots instead. Participants like Tatum, Lauri Markkanen, and Tyler Herro do not have ideal shot forms to succeed in the contest.
Huerter is having a very successful season thus far, perhaps the best in his career, and his shot is very set-shot friendly. Star players have not fared well in recent history except for Steph Curry and Klay Thompson who are two of the best shooters of all time. Damian Lillard (+550) is not a bad bet either, but with his lack of success in the past I like Huerter at +650.
Team Jazz to win Skills Challenge +100
In my opinion, this is a two-headed race in the Skills Challenge. Between Team Jazz and Team Rookies, I like the skillset diversity of Team Rookies more.
Team Antetokounmpo is a fan-favorite gimmick, but only Giannis is truly an NBA-caliber player. Even then, Giannis does not have the most reliable three-point shot which is the final element of the Skills Challenge.
In this new Skills Challenge format, the big man will be the most important aspect. Aside from Giannis, Paolo Banchero is the most diversely skilled big man in this year's competition. However, the rookies actually have two big men competing on their team with Jabari Smith also participating. Jaden Ivey rounds out the team for the Rooks.
As for Team Jazz, they also have a rookie in big man Walker Kessler. Collin Sexton and Jordan Clarkson complete their team. Skill for skill, Ivey can match up with either Sexton or Clarkson fairly well, but the other Jazz guard will have a significant advantage in this contest over one of the two big men on Team Rooks.
This is a team competition, but Team Jazz just has far and away the best players suited for this type of event. Team Jazz at even money is a steal.