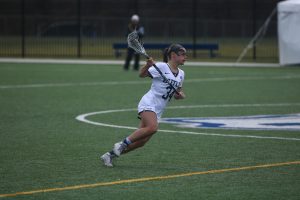 By Kayla Bartl
This weeks episode of The Bark, we did an athlete profile piece on Butler women's lacrosse player Ashley Lizzi. Ashley gives us some insight on what it means to her to be apart of a program like the Butler women's lacrosse team and what made her fall in love with the sport.
Bark Reporter Kayla Bartl: "How old were you when you first started playing lacrosse?"
Ashley Lizzi: "I started picking up lacrosse when I was a freshman in high school one of my friends asked me to play, and it was supposed to keep us in shape for soccer season and I ended up falling in love with it my freshman year of high school".
Bartl: "What are your main motivations for playing lacrosse?"
Lizzi: "I have been playing lacrosse ever since high school and ever since then it's always been about playing sports, and just enjoying it I've always liked the girls who played lacrosse it was always good comradery and why we play the game and just keep the spirit of the game alive. I enjoy playing all kinds of sports. It just for me was another love of the game type of thing, and I fell in love with it and that's why I continue to play today."
Bartl: What do you enjoy most about being a Butler women's lacrosse player?"
Ashley Lizzi: "Being a Butler women's lacrosse player is about the name on the front of your jersey not on the back of your jersey and I really enjoy being apart of a brand new program to create our own traditions, our own rituals, whatever we want to do. We have created our own culture here and I have been here for all three years of that and I think that's an incredible thing to be a part of."
Bartl: "What is one of your favorite memories since being on the team?"
Lizzi: "I'd have to say my favorite memory was our first win against Gardner-Webb my freshman year. It just proved to us that all our hard work wasn't meaningless and we had a purpose for it and that was an awesome day."
Bartl: "If you could rank your athletics based on importance what would it be and why?"
Ashley Lizzi: "I'd say athletics is probably one of my top priorities, so like 10 on a scale from one to ten. Just because I also want to go into a coaching field after I'm done, whether that's sports performance or lacrosse coaching. I want to continue with it and so me playing sports here and just loving it and loving all aspects of it really helps shape my future so for me, sports is like a big motivator because it's also why I'm in communication why I am a double minor in sports studies and recreation sports coaching."
Bartl: "Who is your biggest role model?"
Lizzi: "My biggest role is Abby Wambach. She is a professional soccer player. She doesn't play anymore but she has always been an advocate for women in sports and about equal playing pay rights so she is just a huge advocator and I have looked up to her ever since I have been playing sports, so probably since I was five years old."
Bartl: "If there was one person you play for, who is it and why?"
Ashley Lizzi: "I would say I play for my dad he never had the opportunity to play college sports, he played soccer his entire life and he was never able to make it to college for that, but he did run track at The University of Florida, so I think I continue to play to live out what he started and I just like making him happy and it makes me happy being in sports and it gives us a common ground to bond over."