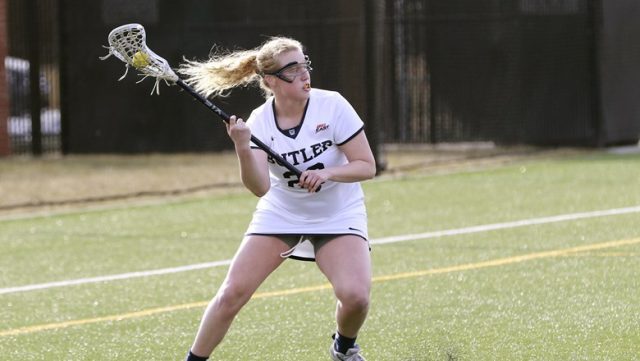 Junior Ashley Guerra prepares to fire in a shot in a game earlier this season. The Bulldogs are off to their best start in program history. Photo courtesy of butlersports.com.
The Butler women's lacrosse team has begun its fourth season with 41 goals scored and 4 goals allowed in its first two games.
The team struggled in its first three seasons as an official Division I program, combining for a record of 5-46 over that time. However, the Bulldogs are off to a roaring start in 2020.
Dominant Season Opener
In their first game against Division III Hanover at home on Sunday, the Bulldogs shut out the Panthers and were firing on all cylinders on offense.
The 22-0 victory was certainly a team effort, as 17 different players scored a goal. Sophomores Lindsey Schreiber and Gabryelle Bodine highlighted the offensive melee by each recording a hat trick.
The defense was equally as stellar as Butler allowed only three shots all game, none of which were on goal. The Bulldogs also picked up over three times as many ground balls as Hanover and forced 11 of their 18 turnovers.
The convincing win proved to be a much-needed confidence booster for the team and the program as they kicked off a crucial season to prove themselves.
The Team Keeps Rolling
The Bulldogs carried their momentum into their second game against Detroit Mercy at home on Thursday.
The offense continued its dominance with another high-scoring performance, leading the team to a 19-4 victory. Junior Ashley Guerra led the team with 5 goals and an assist with Schreiber following closely behind with 4 goals and an assist of her own. Bodine added another 2 goals and 2 assists, including the opening goal just 40 seconds into the matchup.
Butler's defense didn't miss a step either. Junior Mary Larson caused 2 of Butler's 10 forced turnovers, and the Bulldogs once again easily won ground balls, this time winning almost two times as many as the Titans.
The win puts Butler at 2-0 on the season and tied for first in the Big East.
Up Next
The Bulldogs will travel to Central Michigan on Sunday for their first road game of the season. The game is set to start at 12 p.m.