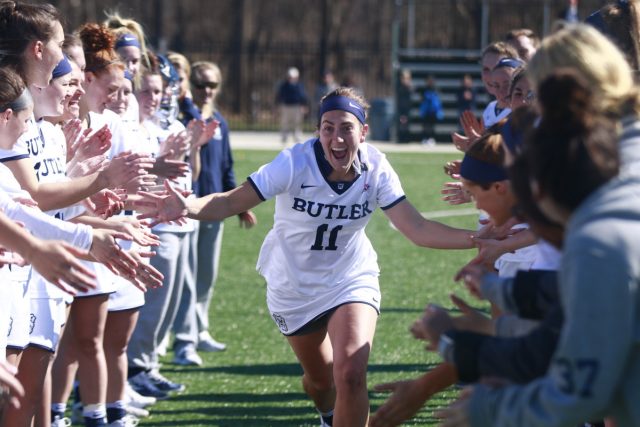 Senior attacker Rachel Kegler high-fives her teammates before a home match. The Bulldogs are off to a 2-0 start, outscoring their opponents 41-4. Photo courtesy of the Butler Collegian.
"You think of people who make it to college to play a sport, and then you think about the opportunity to start a program…it's unheard of. It's been a hard journey, but it's been one that I wouldn't trade for the world."
Midfielder Ashley Lizzi has been a member of the Butler women's lacrosse program since the inaugural season in 2017. The senior captain has appreciated and accepted the ups and downs of this valuable circumstance.
"It was us," said Lizzi. We've been here for four years, it's pretty impressive. I think the girls who started it were the right ones for the program."
Sydney Pattinson (Attacker), Haley Rayburn (Goalie), Rachel Kegler (Attacker), Taylor Kinn (Attacker), Taylor Lores (Defender), Mary Davide (Defender), Ashley Lizzi (Midfielder), Nora Byrne (Defender) are the originals from the 2017 season.
"We joke all the time about how we are still standing, like here we are," said Lizzi. "We've made it that way, so we can have a successful program."
While the journey has been rewarding for the players who are 'still standing,' head coach Cecil C. Pilson addressed that the upward climb of the program has been strenuous from a coaching standpoint, yet exciting. He knew he literally had to start an NCAA Division I program from scratch.
"In the day of instant gratification and social media, everybody assumes that you should be a top-tier program immediately," said Pilson. "That's just not reality, it takes time to recruit kids and create a program right away."
From 2017-2019, the program had a collective record of 5-46.
It was Pilson's first-time coaching at the Division 1 level after spending 11 seasons as head coach at Mercyhurst University (NCAA Division II) in Erie, Pennsylvania, where he posted a 133-57 overall record. The Lakers we ranked in the Top 15 of the Intercollegiate Women's Lacrosse Coaches Association seven of the past eight seasons.
After a rigorous first three seasons, the Bulldogs have started the 2020 campaign 2-0, including wins over Hanover College and Detroit Mercy.
Pilson is grateful for the now-seniors who took a chance and rolled the dice on coming into a new program and relieved that a few student-athletes were able to welcome the new recruits in to make it a family-oriented feel from the beginning.
"It was nice to have the leadership of Kathleen Cihota and Emily Annand, who were club players their previous three years here and our first two alumni," said Pilson. Kathleen and Emily set the tone for this program because of their familiarity, and it was a unique situation for them as initial club players. Those two helped us get our feet off the ground immediately."
Not only has the program generated a combination of notable, previous club players and scholarship players, the coaching staff has been realigned since 2017. Pilson has remained as head coach, but there are no original assistant coaches from the inaugural season on staff. Nicole Kopyta (Rutgers) and Sarah Willard (Towson) are on the current staff and both have Division I experience.
Kopyta has taken action to build positive progression on and off the field, and she is proud of the direction of the team's camaraderie.
"Coming in from last year to this year, there's been a huge jump in talent, but what's been big is how we run practice, how we run film, how we run team meals… it's all become more professional," Kopyta said. "Me, Coach Willard and the other assistant coaches from the past have worked to instill the impact that these components could make."
Not only has practice, film sessions and team meals shifted in approach, the coaching staff has implemented individuals every week to enhance fundamentals. Off the field, Kopyta strives to take everything from the big picture attitude to shrink any type of overwhelming adversity, as well incorporating new team mantra, which has spoke volumes for this year's squad already.
Senior captain Ashley Lizzi came up with "TNT" as this year's new saying.
"It stands for "takes no talent," said Pilson. "It's to remind the players that it doesn't take talent to get low and scoop for a ground ball, it doesn't take talent to show up to film on time, it doesn't take talent to wear your uniform properly. This mindset is definitely rubbing off on the team. I had other ideas, but I like the simplicity of it, and it has helped us move in the right direction as a program. I'm truly excited for this team, it has the potential to be a breakthrough season for us."