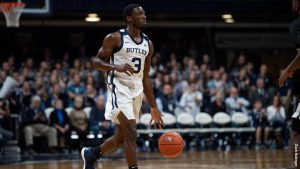 Kamar Baldwin brings the ball up the court for Butler in a game earlier this season. Photo courtesy of Zach Bolinger / Butler Athletics.
In a BIG EAST showdown, the Seton Hall Pirates will face off against the Butler Bulldogs at Hinkle Fieldhouse on Wednesday.
The two ranked teams (Butler 21, Seton Hall 16) are meeting in an important game. The two teams are hoping to keep their March Madness dreams afloat in the midst of a hectic season.
The last time Butler and Seton Hall squared off against each other came on January 15 when the Bulldogs were ranked 5 and the Pirates were 18. The upset came as Butler lost 78-70 on their home court.
The Bulldogs are looking to bounce back after the upset to provide an upset of their own. In the last game between the two, Myles Powell lead the way for Seton Hall with 29 points while Kamar Baldwin lead the way for the Bulldogs with 19 points and six assists.
Though the impressive numbers from Powell were enough to give any team trouble, the Bulldogs shot themselves in the foot by shooting only 30 percent in the second half of the game including only hitting 1-of-11 three pointers. By the end of the game, the Bulldogs shot 42 percent.
If the Bulldogs want to win their second game against the Pirates, they are going to need to produce big numbers from seniors Kamar Baldwin and Sean McDermott as well as Jordan Tucker and Bryce Nze, as the four have combined for 82 percent of the teams scoring over the past five games.
Another crucial piece of the Bulldogs game plan must be to stop Myles Powell, Quincy McKnight, and Romaro Gill who have combined for 55 percent of the Pirates points over the last five games.
Although the Bulldogs have a limited bench due to the injuries of Aaron Thompson and Derrik Smits (both uncertain for the game), the team will have to rely on their three point shooting to push them ahead of the Pirates.