https://www.youtube.com/watch?v=NkzVeVKeuHo The Butler Women's Club Volleyball Team is heading to Phoenix, AZ to compete in the Division II National Championship Tournament. I meet with Seniors...
In this week's episode of the Bark, Brian previews softball's upcoming weekend series, Jack talks all things Butler baseball, Maeve reports about BASO's Spring...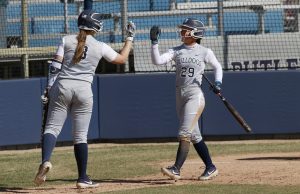 By: Brian Cooney This season, the Butler Softball team is off to a hot start, going 18-10 in their first 28 games. They face a...
https://youtu.be/VHHa3aEGEuc After two COVID-19 plagued years, BASO has brought back the all-night event that many students love: Spring Sports. Reporter Maeve Van Etten has more.
https://www.youtube.com/watch?v=K1z_RotcRS4 On this week's episode of The Bark, we start off the show talking Butler Sports as we finish out March. After this, we take...