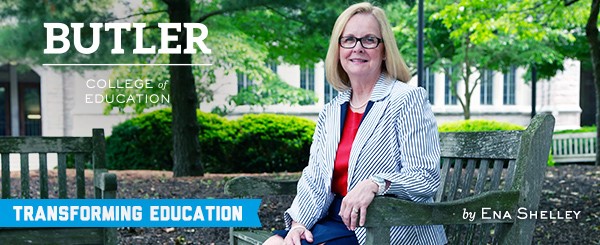 Write in your heart that every day is the best day of the year.
— Ralph Waldo Emerson
Happy Holidays!
As I shared in my last newsletter, the College of Education is very pleased to begin our Brick by Brick, or Mattone Su Mattone, campaign as we journey towards our new home in the beautiful building that currently houses the Christian Theological Seminary (CTS).
Our future is full of opportunities as we continue the work to transform education, but we would not be where we are today without the strong foundation of alumni, faculty, staff, and students who have helped us develop, brick by brick, into a nationally recognized College of Education.
As you reflect on this season of thankfulness, giving, and remembrance, we would ask that you consider honoring those who have paved the way.
Is there an educator that started you on your professional journey, even before you came to Butler, who you would like to recognize?
Is there a faculty or staff member that you would like to publicly thank for their investment in you and the profession?
Would you like to have your own name inscribed as a permanent part of your alma mater?
If you are a family member, is there a former or current student you know who would love to always be part of the COE?
The link below will take you to the site where bricks can be purchased and inscriptions can be noted. We are thrilled at the outpouring of interest in this project since the last newsletter, and we cannot wait for the names and stories that we will remember because of this project.
Thank YOU for being a part of the Mattone Su Mattone that has allowed us to build who we are today and lay the foundation for an even stronger tomorrow. We look forward to the many good things ahead in 2018!
Until next month,
Dr. Ena Shelley
Dean, College of Education