The Indiana Partnership for Young Writers, a program of the Butler University College of Education, will release its sixth anthology of student writing on December 14, 2015. The book, titled Listening Still, features poems, essays, articles and fiction by 175 students in grades pre-K through eight. The work comes from 29 schools in Indiana.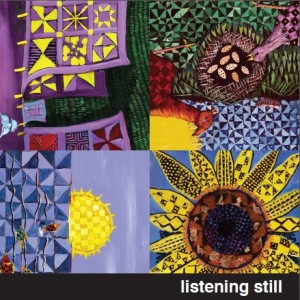 The featured texts were chosen from close to 1,000 submissions and represent the diverse array of genres that are taught in classrooms with rigorous writing workshops. The works exhibit the same characteristics as prized literature—understanding of audience and purpose, strong voice and intentional application of a variety of literary devices.
"What's most impressive about the texts in this book—and in writing workshop—is the clear sense that these writers have something to say and can approximate the work of the professional authors they read," said Susan Adamson, director of the Partnership.
As the student writing was compiled, Adamson saw four themes emerging—students finding beauty in the world, discovering the power of observation, wrestling with complex thinking and social issues, and experimenting with humor and joyful word play. These themes provide the frames for the four distinct chapters of Listening Still.
The anthology's impact is heightened by four original paintings created specifically for the book by highly acclaimed artist Michele Wood. Recipient of a prestigious American Book Award and a Coretta Scott King Illustrator Award, Wood crafted the paintings in response to the student-authored texts. Inspired by the students' words and her trademark connections to both the natural world and her cultural history, Wood responded with images from her childhood, an interpretive farm scene, sunrise over the ocean and a resilient single flower gilded with gold leaf.
Listening Still will be unveiled at a public celebration at Christian Theological Seminary's Shelton Auditorium at 6:30 p.m. on December 14.