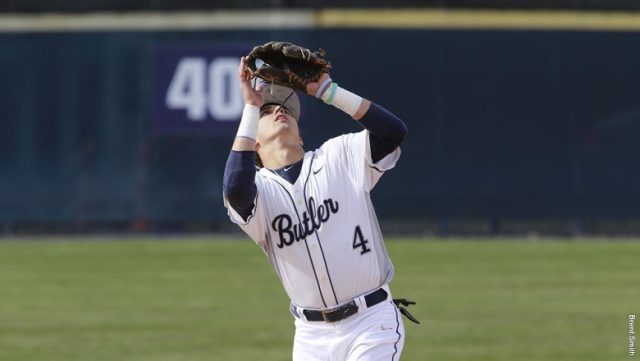 The Butler Baseball team won back-to-back games on Tuesday and Wednesday over Fort Wayne and Morehead State by final scores of 9-5 and 4-2.
In game one the Bulldogs were on the road against the Fort Wayne Mastodons. Butler put up five in the third inning with two RBI singles, a throwing error, and an RBI double off Fort Wayne pitcher Trevor Armstrong. The Mastodons added in a pair of runs in the 5th and 6th to bring the game to 5-2. A RBI double from Butler's Connor Dall in the 7th was answered with a Fort Wayne 3 run bottom half of the ending brought the game to within one run. Butler came out strong in the top of the ninth adding three runs from two singles and a passed ball. Butler's Jack Pilcher shut down the Mastodons in the bottom of the ninth to give the Bulldogs a 9-5 win.
In game 2 picked up their 20th win on the season at home over Morehead State by a final of 4-2. Butler pushed across two runs in the bottom of the second with an RBI triple from Connor Christman and a sacrifice fly from Zach Parker. The Eagles added a run in the fourth but were held at bay by Butler starting pitcher Sam Hubbe who went 6.2 innings with holding them to three hits. The Eagles tied the game late in the 8th with a sacrifice fly. Butler freshman Andy Bennett came on to pinch-hit and knocked two runs home with an RBI single in the bottom of the eighth. Ryan Pepiot picked up the save on the top of the 9th to win the game for the Bulldogs.
The Bulldogs play at Villanova this weekend in a three game series.