By Kelan Martin
Before coming to college, I was always told my four years in high school would fly by, but I didn't believe it. I just wanted to live free and have fun, but in the blink of an eye, it was over. Now college is here, I'm attending Butler University and people are telling me the same thing I was told in high school. "You better take advantage of these four years of college, it goes by fast." Once I heard the quote again, I really thought to myself, "Man, it's time to take advantage of it this time."
My freshman year was all over the place, I wanted to get adjusted to campus life, meet new friends, and join a traditional basketball program with new teammates. I struggled my freshman year because I was still trying to find myself. On the basketball court, it was hard to get adjusted to the college basketball life. I had some big-time games in the beginning of my first season, scoring 17 points in 17 minutes against the No. 5 North Carolina Tar Heels in the Battle 4 Atlantis, 23 points against Loyola-Maryland, and 13 points against UT-Martin. I had a different mindset because I went through a slump when I missed 22 three-pointers in a row. I just lost some confidence at that point, but I finished the season off strong. We went the NCAA tournament and lost in the Round of 32 to Notre Dame. I finished the season averaging 7.1 points per game and 2.1 rebounds per game. I knew the summer going into my sophomore year I had to work on different aspects of my game including defense, ball handling and becoming a more consistent shooter.
During the first three years of my collegiate career, I described my sophomore year as my best year yet. During that year I came off the bench for the first 19 games of the season, then started the last 14 games of the season. I worked on getting my body fat down from 12.3 percent to 9 percent during the year. I felt like my game went to another level when I cut my weight down. I had career-highs that year, scoring 25 points and hitting five three-pointers against Tennessee, 27 points against Marquette, and finished with 35 points and eight rebounds against the Georgetown Hoyas. I didn't finish the year off well, but finished the season as the second-leading scorer. I averaged 15.7 points per game and led the team in rebounding, with my 6.8 rebounds per game tripling my freshman year total. I also went to another Round of 32, but lost to the No. 1 overall seed, the Virginia Cavaliers.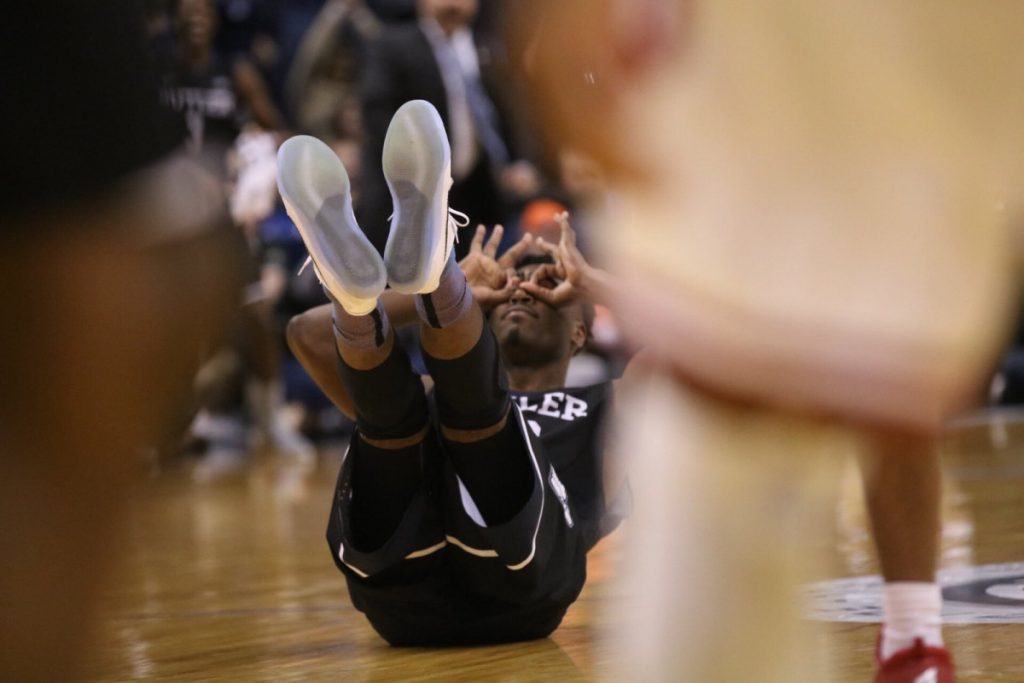 Honestly, the summer of my junior year, I worked as hard as anyone in the country. I had the confidence that it would be my best year of my career here at Butler, but that was not the case. I lost a ton of weight, weighing in at 218 pounds and having a 7 percent body fat. But it just didn't feel right. I was always tired, and my body was so beat up because I was working too hard on getting my game polished and not getting any rest. I started off the season on a hot streak, averaging 19 points per game going into Big East play but it started with an inconsistent month of basketball during January and the beginning of February. I was in a slump for three games, combining for a total of 24 points. I got in contact with a local trainer who has trained many NBA players, Joey Burton. We got in the gym, worked on my shot, and that finally got me out of the slump. I closed out the year by scoring 22 points against Villanova and 25 against Xavier. We won both of those games in their houses. I enjoyed another year of making it to the NCAA tournament, but this time we made it to the Sweet 16. In my first Sweet 16 game, we lost to eventual champion North Carolina. I finished that season averaging 16 points per game and 5.8 rebounds per game.
Going into my senior year, I wanted to make it my best year. I especially wanted to make it my best after all of the workouts I did with Joey Burton in the summer of 2017. We worked five days a week, sometimes six. I also trained with Purdue senior guard Dakota Mathias. We went at it on the court, competed hard and made each other better. The amount of workouts depended on how my body was feeling because of on-campus workouts with the team, but we had a coaching change during the summer. Coach Chris Holtmann took the job at Ohio State and former Bulldog LaVall Jordan took the head coaching job here at Butler. He and I built a relationship over the past months because he coached me for only one year. He would tell me to just go out and play with a free mind, so I took that advice and ran with it. The media and people on Twitter questioned how my game would translate from junior year to senior year. They had a lot of questions. The questions were: Is he going to be a better player? Can he lead a team on his own? How would he respond to a whole new coaching staff? I took those questions, left them in my head and used them as motivation. My senior year was the best year of my career. I scored a career-high 37 points against Marquette on Jan. 12 inside a rocking Hinkle Fieldhouse. I earned a unanimous All-Big East First Team selection. We earned our first Big East Tournament win as a program, beating Seton Hall in a thriller. My friend Tyler Wideman and I made the NCAA Tournament for the fourth straight season, losing in the Round of 32 to Purdue. We won at least one NCAA Tournament game during each of our seasons at Butler. I cracked open 2,000 career points and finished with 2,047. I became the No. 2 leading scorer in school history. I averaged 21.2 points per game, good enough to be the Big East's leading scorer, and added 6.3 rebounds per game. I know this will be a season to remember and I'll forever be a Bulldog in my heart.
Thank you, Butler.