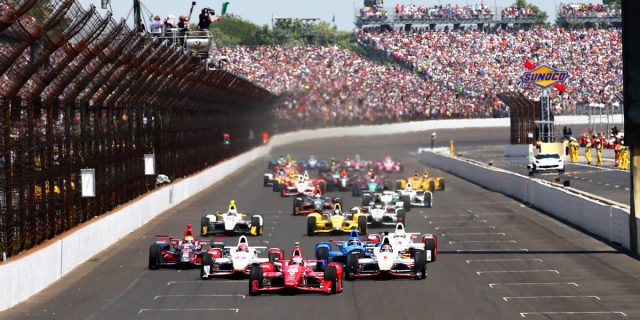 By: Savannah Boettcher
The 102nd Indianapolis 500 is set to take place on May 27, 2018. What will you being doing that day? Hopefully, the answer to that is watching the race. If you need some convincing, here are the Top 5 reasons Butler students should watch the Indy 500.
The Camaro
Did you walk past the HRC last week and notice something unique sitting outside? A bright orange camaro sporting the 102nd Indy 500 logo could be found on campus. On top of just sitting there, President Danko and Michael Kaltenmark went Live while taking the car for a spin.
Danica Patrick
The retired NASCAR driver and former IndyCar driver will officially be finishing her career at the 500 in May. Patrick will be driving for Ed Carpenter's team and will sport the number 13. Regardless of whether Patrick crashes, wins or loses, it will be worth watching and you will be witnessing history.
Ed Carpenter
IndyCar driver Ed Carpenter graduated from Butler University in 2003. He currently owns a racing team – Ed Carpenter Racing. Carpenter has been featured in various Butler commercials and marketing campaigns. Similarly, he shows his Bulldog pride by repping a Butler logo on his car. Don't believe me? Watch the race.
In our Backyard
Type Butler University to Indianapolis Motor Speedway into Google maps and you will find the fastest route is 14 minutes or 6.8 miles away. While the Speedway may not be one of the prominent landmarks you think of in terms of proximity to Butler, it should be now! The Indianapolis 500 is about to take place 15 minutes from where you sleep 9 months out of the year, and you should watch it.
Sports Tradition
The Indianapolis 500 is characterized as the greatest spectacle in racing. It is considering a sports bucket list item along with the Kentucky Derby, the Masters, or catching a baseball game at one of the many iconic venues. Any event that has been going on for 102 years must be doing something right, so why not tune in and be a part of one of the greatest sporting traditions?
Photo: Indianapolis Motor Speedway.com