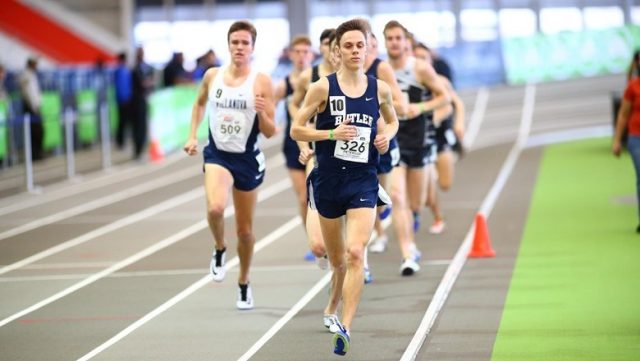 The Butler men's and women's indoor track and field season continued this past Saturday at the Meyo Invitational hosted by Notre Dame.
The highlight for the women's team was senior Allie Vogeler beating her own school record in the 600-meters with a time of 1:31:37. Vogeler finished second overall in the event.
In the Ryan Shay 3000-meter run, Barry Keane took the win with a time of 8:09.96. His teammate, Clark Otte, who also competed in the race finished with a career best time of 8:29.69 and finished 17th overall.
There were a handful of career bests for the Bulldogs. Freshman Margo Hornocker finished as the top collegian in the 5000-meter run with a time of 17:02.42 and her teammate Maddie McLain finished behind her in 4th place with a time of 17:07.30.
On the men's team, Chandler McGaha had a career weekend where he ran personal bests in the 600 and 800 meter races. McGaha finished 10th overall in the 600 and his teammate, Jacob Uhl, finished 14th overall.
In the men's 4×400, Uhl was joined by Wade Walder, Connor Fuller and Jake Bowers who all finished in eighth place with a time of 3:18.26.
This upcoming weekend the teams will split up in half and head to Seattle for the Husky Classic and Bloomington for the Hoosier Hills competition.