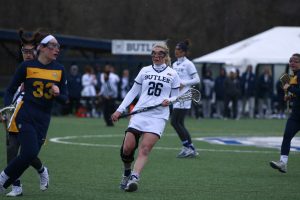 On. Feb. 19, the Butler women's lacrosse team traveled to Pontiac, Michigan, to take on Detroit Mercy. The Bulldogs lost their home opener 16-8 to Duquesne, and were looking to get their first win of the season. Detroit Mercy also came in starting their season 0-2.
The game was high-scoring and back and forth. The offense began with the Titans going up 3-0 in the first four minutes of the game. Butler responded with two goals of their own, making the score 3-2. The two squads continued to trade goals until the end of the first half, making the score 10-9 in favor of Detroit Mercy.
The second half was an uphill battle for the Bulldogs after falling behind four goals early. Butler fought back with some late goals at the end from Ashley Guerra, Kailee Callaghan and Ashley Steffes, but it was not enough as the final score was 17-13 in favor of Detroit Mercy. The Titans had some big performances from Morgan Girardi with four goals and Elise Harder, who had three goals. This is Detroit Mercy's first win of the season, making the Titans 1-2.
Despite the loss, Butler had some standout performances from Ashley Guerra — who had five goals— and Haley Hallenbeck with three goals. Now the Bulldogs are 0-2 and need to forget the past. They have a good opportunity ahead as they have a four-game home stand coming up, starting off with Kent State on Feb. 22.