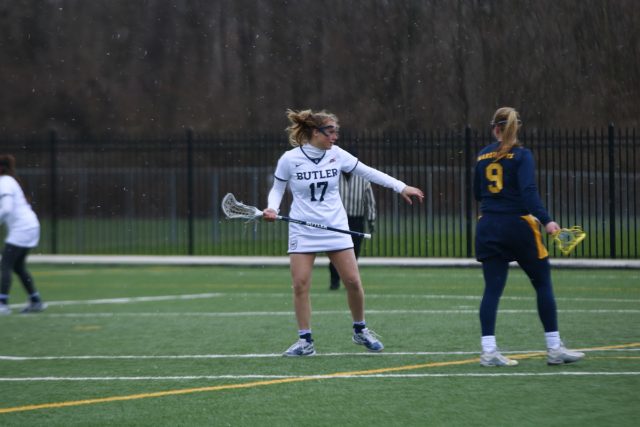 By Kayla Bartl
The Butler Women's Lacrosse team traveled to North and South Carolina to play three teams, going 1-3 for the week.
The Bulldogs had a rough start to the week as they fell to Gardner Webb. They started to pick up momentum in the second game against Wofford where they came out on top. Unfortunately the Bulldogs closed out the week with a loss to Furman.
The Bulldogs played Gardner Webb to kick off the week, Gardner Webb took a 10-4 lead going into the second half of the game. Shortly after, the Bulldogs started to come back where they scored 8 goals, but unfortunately fell short by one, making the final score 12-13.
The Bulldogs headed to Wofford for the second game of the week where the outcome was in favor of the Dawgs. The Bulldogs went into the second half of the game with an 8-1 lead. Wofford scored their first goal of the game with a minute left on the clock. The Bulldogs wrapped up the game with a score of 17-10. This takes the Bulldogs to 3-5 for the season.
To wrap up the week the Bulldogs traveled to Greenville, S.C. Here they took on Furman. Unfortunately, it was not the outcome the Bulldogs were hoping for. Sophomore defender Grace Lagoner shares her opinion on the game.
"I think the Furman game was a transitional game for our team due to the fact that one of our main leaders on the attack end tore her ACL in the first game of our spring break trip. Our other attackers had to fill into her position, and figure out their new roles on the team. Although this game didn't end how we would have liked it to, it was defenitly a learning experience for our team as a whole which will help us to prepare for our upcoming games."
The Bulldogs are now 3-6 on the season, and will head to Nashville, Tennessee on Sunday March 24 to take on Vanderbilt at 2 PM.