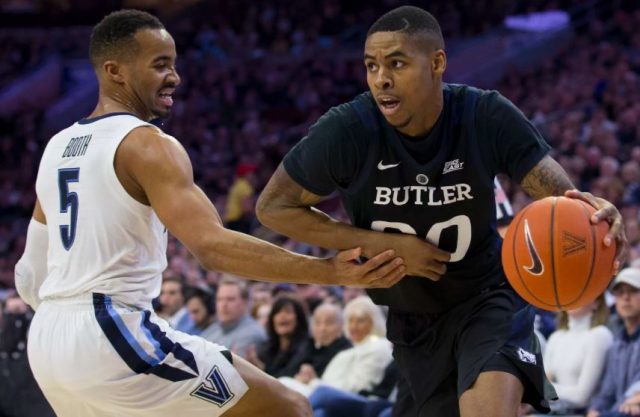 By Chase Holland
For his senior season here at Butler University, I decided to sit down with Bulldogs Guard Henry Baddley and discuss his time on the men's basketball team. But instead of focusing on just his basketball career so far, we're walking you all the way back to his first week on campus.
"I definitely was one of the quieter guys on the team when I first got to Butler my freshman year," Baddley said.
From his first practice in Hinkle, he knew that in order to really embrace the 'Butler Way' he was going to have to come out of his shell. His first friend on the team, Kamar Baldwin.
"I use to give Henry crap about not talking up outside of games and practice. He would be so shy because he was still trying to find his place within the team," Baldwin said.
That first year would also be a huge learning curve for Baddley. Coming from St. Vincent – St. Mary's High School, the same high school in Akron, Ohio that Lebron James graduated from. Baddley was used to being the number one option on the team.
His first year at Butler, Baddley came off the bench and averaged just four and a half minutes the entire season. It was a real wake up call for the freshman who had serious hopes of playing in the National Basketball Association (NBA) one day.
With that first year of experience behind him, Baddley finally got his first real minutes in his sophomore season. He averaged just over 15 minutes that year.
"Those minutes my sophomore year really helped me begin to find my confidence. I was shooting better, and no longer had butterflies when stepping out onto court," Baddley said.
From not connecting on a single three-pointer his first year, to now shooting well over 40% on nearly 50 attempts, Baddley really had begun to get that same confidence back he had his senior year of high school. To go along with that increase, he was also shooting over 50% from the field, which was up from his previous 40% as a freshman.
Baddley was finally beginning to understand his role within the team, but it was off the court that was beginning to take more of priority in his life.
"I finally realized my junior year that I was going to do some real thinking about my future outside the game of basketball. I had put all my time and effort so far into the team, that I was never focused on if basketball didn't work out, where would I end up?" Baddley said.
With his place as a six man on the team being very solidified, he turned to figure out what he wanted to do post-graduation. Being a business major, he knew that his junior year would be the most important for him to pin down any field he wanted to venture into after his final year. And due to Butler Athletics demanding more of its athletes than most schools, he would be done with all his needed classes to graduate before even beginning his senior year in the fall of 2019.
Baddley is now an intern for Butler Athletics in the marketing department, along with his still strenuous practice and travel schedule for basketball.
"This opportunity I was able to find within Butler has been a real game-changer for me. I finally have to opportunity to expand my more creative side outside of the basketball court and work on projects that will give me a head start into my professional career," Baddley said.
On most days now, Henry spends close to four hours in the office in the morning and then follows that up with lift sessions, team practices and even games on the days that they're in Hinkle Fieldhouse. You could say that once shy freshman has really come out of his shell and embraced what it means to be apart of the Butler community during his time here on campus.
Baddley is currently one of four seniors on the team including: Kamar Baldwin, Sean McDermott and Derrik Smits. Coach LaVall Jordan spoke to Henry's contribution on the team while he's had the privilege of coaching him.
"Henry is such a special part of this team. On any given night he can give us 30 minutes off the bench, or even be thrown into the starting lineup and be a huge game-changer for us. He's also one of the humblest guys you'll ever meet," Jordan said.
Humble is really a great way to describe the way Baddley views playing here at Butler. He's all-in on making sure this team plays to its best of its ability now that they've entered Big East conference play towards the end of their season. But Baddley's time on the court isn't up just yet. The team currently sits nationally ranked and is looking primed and ready to take March Madness head on in just over a month's time.