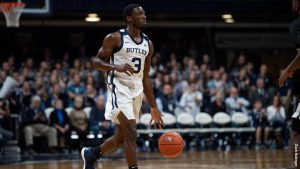 By Nick Kuster
The Butler Men's Basketball team, along with the rest of college basketball, saw their season come to an abrupt end not even a week before Selection Sunday due to the COVID-19 pandemic.
Even with the shocking end to the season that no one saw coming, the question has to be asked…
Was this a successful season for Butler Men's Basketball and third year Head Coach Lavall Jordan?
The answer to that question is simple and in one word… Yes.
Here are my 5 reasons why Butler Basketball took a massive step forward this season:
1. Kamar Baldwin Played at an All-American Level
Kamar Baldwin can be described in one word this season as spectacular. Baldwin averaged just over 16 PPG, 4.6 APG and 1 SPG. Those statistics may not jump off of the page to the average fan who doesn't follow the Big East or Butler basketball. But Baldwin's game winners this season are why he was what I would be considered to be an All-American.
Baldwin had a total of 3 game winners this season. That is three more than most TEAMS in college basketball. Those game winners came at different times and crucial points in the season.
The first came against Stanford to win the Hall of Fame Classic in November. Next, the step back three pointer to knock off Villanova in Hinkle Fieldhouse (maybe one of the best shots I have ever seen in person). Then, the last shot of his season at Xavier, Baldwin pulled up for three to silence the Musketeer crowd.
All-Americans have the ball in their hand at the end of games and they make the toughest shots at the most important times in games. Kamar Baldwin was that man. Baldwin was a go to guy late in games and I have never watched someone take over games late like he did this season (just look back at the Villanova game).
Baldwin will be missed not just by the Bulldog faithful, but also by all of college basketball fans. He was a once in a decade type of player.
2. The Bulldogs Defense is why they were so good
They say defense wins championships and this season the Bulldogs were so successful because of their defense.
Earlier in the season when they were up to 5 in the AP Poll and their lone loss was to Baylor, the Bulldogs were defensively sound for 40 minutes per game. That changed as the season progressed and that is why they saw their conference record turn out to be 10-8.
The Bulldogs on defense were led by guard Aaron Thompson. A stout defender, Thompson was not much of an offensive threat but had to guard some of the best players in the Big East. That includes Collin Gillespie from Villanova and Quincy McKnight from Seton Hall. Oh… and don't forget First Team All-American guard Markus Howard from Marquette.
Milwaukee transfer Bryce Nze was someone to not overlook in the paint. Nze is a smaller size for his position but he did not play like it as he led the team with 20 blocks and was second on the team in steals with 27. Nze will need to take on a much larger role scoring the ball next season.
As a whole, the Bulldogs held opponents to under 40% shooting and 33% shooting from 3-point range. They also forced opponents into just under 12 turnovers per game.
If Butler wants to keep success going and even accomplish more next season, defense will be the first place to start. Just look at the best teams the past couple of years:
Virginia, Baylor, Texas Tech
Defense is a key to their success and will be the key to Butler's success moving forward.
3. Hats off to Lavall Jordan
Lavall Jordan wasn't even close to being on the hot seat this season. But after missing the NCAA Tournament last year, I had speculations regarding whether he was the right man for the job.
He took those speculations and concerns away within the first 10 games of the season.
The Bulldogs were ridiculed by injuries and at no point in time was this team 100 percent healthy. Below is a list of players hurt at some time during the season:
C Derek Smits (Knee)
G Aaron Thompson (Wrist)
SF Christian David (ACL)
G Campbell Donovan (ACL)
G Kamar Baldwin (Knee)
With the Bulldogs not being healthy for most of the season, you have to tip your hat to Coach Jordan, because when injuries are a problem and rotations never stay the same, it's the job of the head coach to keep everyone going.
Coach Jordan… hats off to you.
4. Quality Wins and no Bad Losses
If you look up and down the Bulldogs schedule, you will see that they had a ton of quality wins and no bad losses.
Butler Bulldogs Quality Wins
Stanford*
at Ole Miss
vs Florida
Purdue*
at Providence
at Georgetown
vs Creighton
vs Villanova
at Xavier
The Bulldogs had a slew of quality wins and even more could be added to the list. Even with 9 losses on the season, the Bulldogs were projected to be right around a 6 seed in the NCAA Tournament. They were also matched up against Providence in the Quarterfinals of the Big East Tournament. A win in that game and maybe one more win against, most likely Creighton, would see the Bulldogs challenge for a 4 or 5 seed in the big dance.
But that is all obviously hypothetical. All of the quality wins the Bulldogs had shows that you can afford to lose games and still have a good projected seeding in the tournament.
Quality wins are hard to come by. Neutral site and away wins look much better on a resume compared to home wins. If you can take care of business at home and steal some games on the road… well then, we will see you on Selection Sunday.
The Bulldogs will look to pick up resume building wins next season, even with a reconstructed roster.
5. Recruiting
The ultimate guide to a successful season is mostly judged from on-court success. But that is only about six months of the year. A lot of the off time is dedicated towards recruiting.
Recruiting is as difficult of a job the coach has. Coaches travel all over to recruit the players they feel will fit their system and help their team improve going forward. For the 2020-21 campaign, Coach Jordan has a stacked recruiting class and one of the best recruiting classes Butler has ever had. According to 247 Sports, Butler has the number 3 ranked class in the Big East and 30 nationally.
Below are the players and rankings based off of 247:
PF Scooby Johnson (140)
PF Jacobe Coles (147)
PG Chuck Harris (149)
PG Myles Tate (175)
PF Myles Wilmoth (305)
With both Kamar Baldwin and Sean McDermott leaving and Khalif Battle transferring, there is an opportunity for incoming freshmen to jump right into the rotation.
Coach Jordan also has two commits in the 2021 class already: Pace Thomas from Brownsburg, Ind. and Jayden Taylor from Indianapolis, Ind.
Overall
A successful season no doubt for the Butler Bulldogs and it was sad to see it come to an end so quickly. We saw so much success for Coach Jordan and the team and fans will hope that carries into next year.
Players like Baldwin and McDermott will be missed as they were the only Bulldogs who averaged in double figures this season. Individuals have to step up for next year to be a success.
I expect the Bulldogs to not be loved in the Big East Preseason Poll or the national poll come October. But knowing the Bulldogs, it does not matter what the media or coaches say about you, it is all about going out every day and proving why you belong at the top of college basketball.
They proved it this year, can they build on that and rise up to the challenge for the 2020-21 marathon.