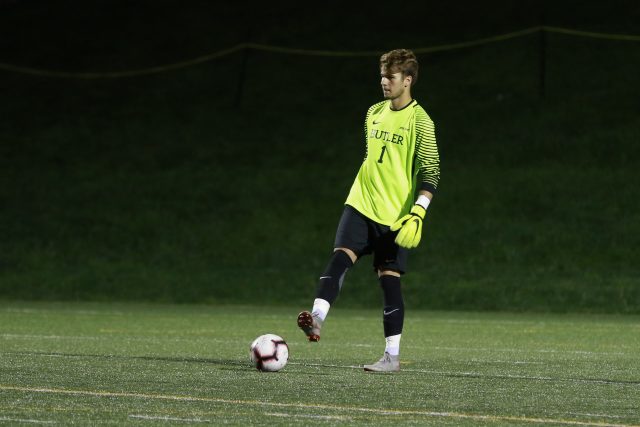 When COVID-19 started spreading across the United States, most Butler students quickly headed home to be with their families. 
However, for other Butler students, such as sophomore men's soccer goalie Gabriel Gjergji, traveling home was not as simple. 
"My first flight home was canceled because of 'presidential restrictions', then I tried a second time with another airline and it worked," Gjergji said. "The plane was almost empty, there were only about five people."
Gjergji is one of the many international athletes who was recruited to come to Butler. He is originally from Vizenza, Italy, but now resides in Benidorm, Spain. 
Gjergji was one of the lucky ones who quickly booked his flight home after learning that classes would move online for the remainder of the semester. Other international athletes, such as his roommate from Nottingham, England have been living in the dorms alone since Spring Break. 
During this spring, the men's soccer team was supposed to have games against IUPUI, Notre Dame and Xavier, however all three were cancelled because of COVID-19. Despite the cancellations, both Gjergji and the athletes stuck on Butler's campus have been focusing on staying in shape for their seasons. 
"I'm trying to eat as healthy as possible and work out twice a day," Gjergji said. "The fitness coach sends us drills and exercises to do everyday, which I complete in the morning and then I lift with my uncle at nights to do some extra."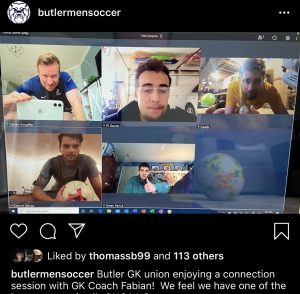 Gjergji is planning on returning to Indianapolis this summer to practice with Indy11, the local professional team. However he knows that there is a high chance of that also being cancelled. 
While times are tough for everybody right now, especially athletes whose seasons have been cancelled or are questionable, Gjergji believes that this is a crucial time for personal growth and learning. 
"I think this break will show the team how to really be committed to something and stay fit," Gjergji said. "I believe it will make us stronger."
Besides missing out on his spring soccer season and potentially his summer season, Gjergji is most focused on staying in contact with his teammates who are so far away from him. 
"Obviously, it is hard not practicing together everyday like we used to, which is going to affect our team chemistry but there is nothing you can really do about that," Gjergji said. "I text and FaceTime them almost every day, and I am so excited to see them soon."
Gjergji is hoping that COVID-19 will not affect the Fall semester, and that classes and sports will resume normally. 
"If we are able to be back in the fall, I will be grateful to travel back safely and see my classmates and teammates," Gjergji said. "As for soccer, my hopes are to go and win the Big East, as we have a great chance."