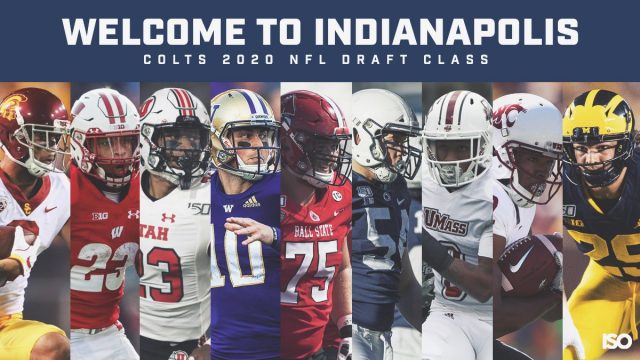 Photo courtesy of the Indy SportsOne.
By Nick Kuster
The first ever virtual NFL Draft has officially been completed and went better than most probably expected. The NFL Commissioner, Roger Goodell, announced the picks from his basement while ESPN, ABC and the NFL Network provided the telecasts. There was more analysis than normal and players drafted were highlighted even more than they usually are.
There were the picks that everyone expected, such as Quarterback Joe Burrow going number one to the Cincinnati Bengals. We were also given surprises such as Quarterback Jordan Love being taken in the first round by the Green Bay Packers, who already have Aaron Rodgers, or Quarterback Jalen Hurts being taken by the Philadelphia Eagles in the second round.
Chris Ballard waited patiently on Thursday night and did not trade up into the first round. But when the second round started on Friday evening, Ballard put the league on notice and got the love of the media after his first two selections were made. Ballard went full offense mode for most of the draft and gave Philip Rivers all the help he could get him for next season.
Monday, like every show, I'll give my post draft grades. My spin has been for years—I'll include your free agent acquisitions AND your top 2/3 draft picks. (Not guessing on 5,6,7 rounders). That said —solely on draft picks —The Colts/Browns/Buccaneers have all crushed.

— Colin Cowherd (@ColinCowherd) April 25, 2020
The Colts started the draft with seven total picks. Ballard traded multiple times over the three days and at the conclusion of the draft Ballard ended up selecting nine players. Out of the multiple trades conducted by Ballard, only one player was traded. Former Colts Cornerback Quincy Wilson was traded to the New York Jets for a sixth round pick. Wilson has not worked out for the Colts over his first couple of seasons in the NFL.
Below are the Colts selections and an analysis on each one.
2nd round, 2nd pick (34 overall): WR Michael Pittman Jr. – USC 
Questions going into Friday night surrounded pick 34 and whether or not Chris Ballard would trade down. Ballard decided not to do that and instead he took one of the top wide receivers on his board in Michael Pittman Jr.
One of the names mentioned in the draft preview story from last week, Pittman Jr. is coming off of an All-American season at USC and has a great opportunity to make an impact for the Colts when he arrives to Indianapolis. At 6'4, Pittman Jr. provides Philip Rivers with the length and size that is needed in the receiving group. He can pinpoint the ball and jump up to catch it at his apex where defenders cannot get to his hands.
Expect Pittman Jr. to be a starter week one and he will most likely line up on the opposite side of current Colts receiver T.Y. Hilton.
Check out the moment Pittman Jr. got drafted below.
The newest member of the Horseshoe. @MikePitt_Jr | #ColtsDraft

📺 NFLN/ESPN/ABC pic.twitter.com/jeJ90VG8Mq

— Indianapolis Colts (@Colts) April 24, 2020
2nd round, 9th pick (41 overall): RB Jonathan Taylor – Wisconsin
Somewhat of a surprise pick by Ballard at 41, Jonathan Taylor was one of the best college running backs over the past decade. The Colts originally had pick 44 and traded up to 41 to take Taylor. Ballard jumped right in front of division rival Jacksonville, who is currently shopping there star running back, and were probably in the market for a new one.
Taylor is coming off of a monumental junior season at Wisconsin where he rushed for over 2,000 yards, was the Big Ten running back of the year, an AP first-team All-American and the Doak Walker award winner for best running back in college football. Taylor also had a total of 26 touchdowns last year.
Taylor will come in and compete with Marlon Mack in the backfield. This past season Mack really made a name for himself and is now headed into his final year of his rookie contract. If he were to want a large contract, Taylor will be the replacement and the future of the backfield for the Colts. But for now, the Colts have one of the best one-two punches at running back in the NFL.
Badger to Blue. @JayT23 | #ColtsDraft

📺 NFLN/ESPN/ABC pic.twitter.com/uyNYZVNoC4

— Indianapolis Colts (@Colts) April 24, 2020
The first two picks for the Colts are what Owner Jim Irsay said, "was the dream scenario." Now Pittman and Taylor have the chance to prove why Ballard and his staff loved them so much.
3rd round, 21st pick (85 overall): S Julian Blackmon – Utah
After the first two picks of the night for Ballard were on the offensive side of the ball, it was time to sure up parts of the defense with the Colts third round pick.
Julian Blackmon out of Utah is a versatile player. Blackmon is listed as a safety but only played in that position his senior year. Before that Blackmon played cornerback for the Utes where he had plenty of success.
As a safety, Blackmon is a ball hawk, collecting a team high four interceptions in 2019. To go along with that, Blackmon also had 60 tackles, four pass breakups and two forced fumbles. Blackmon saw his senior season end early as he had a non-contact knee injury in the PAC-12 Championship game. However, he was still recognized as first-team All-PAC-12 and second-team AP All-American.
That knee injury slid Blackmon's name down draft boards, but the Colts were right there to grab him in the third round. Blackmon compares similarly to current Colts Safety Malik Hooker. Blackmon will come in and learn from one of the better ball hawks in the NFL today.
✅ 1st Team All-Pac-12
✅ 2nd Team All-American
✅ Our new secondary threat

📺: NFLN/ESPN/ABC pic.twitter.com/29JXd4NuIb

— Indianapolis Colts (@Colts) April 25, 2020
4th round, 16th pick (122 overall): QB Jacob Eason – Washington
When the first two days of the draft concluded, people were wondering if Chris Ballard was going to go after the quarterback position at all. With both Jacob Eason and Jake Fromm falling to day three of the draft, the possibility was still there for the Colts to select one of the two.
Ballard did just that with pick 122 on Saturday night. Jacob Eason is one to be excited about if you are a Colts fan.
Eason has a great build for a NFL quarterback as he stands at 6'6. In his senior season at Washington he threw only eight INTs and had a completion percentage of just over 64 percent. Eason also threw for 23 touchdowns and just over 3,000 yards.
Eason will come to Indianapolis ready to learn behind the likes of both Jacoby Brissett and Philip Rivers. Ballard drafted Eason with the hope to develop him and have him learn under the veteran Rivers and the offensive mindset of Head Coach Frank Reich, to where in a couple of years Eason could be the starting quarterback the Colts hoped they got on Saturday.
Still a long way to go for Eason who already has as strong of an arm as anybody in the NFL. At pick 122, Eason slid pretty far, as NFL.com had him projected as a second round selection.
There's a cannon coming to town. 💪💪@skinnyqb10 | #ColtsDraft

📺: NFLN/ESPN/ABC pic.twitter.com/NvVK6pRjmR

— Indianapolis Colts (@Colts) April 25, 2020
5th round, 3rd pick (149 overall): G Danny Pinter – Ball State
Chris Ballard addressed the offensive line in the fifth round and drafted someone who he tried to trade up for.
Danny Pinter is not a huge guard but presents good size at 6'4. Pinter is from South Bend, Ind. and played all four seasons at Ball State University in Muncie. Pinter was All-MAC first team this past season for the Cardinals.
Pinter will sit behind All-Pro Quenton Nelson and expected starter Mark Glowinski. Expect Pinter to get some opportunities this season if he performs well in training camp and practices leading up to the beginning of the season.
South Bend ➡️ Muncie ➡️ Indianapolis

📺: NFLN/ESPN/ABC pic.twitter.com/4MVrH66uwL

— Indianapolis Colts (@Colts) April 25, 2020
6th round, 14th pick (193 overall): DT Rob Windsor – Penn State
The sixth round was where Ballard and the Colts picked up a lot of extra picks. The first of the four sixth round picks was on Penn State Defensive Tackle Robert Windsor.
Not a name most people know from the Big Ten, but Windsor had a decent season last year for the Nittany Lions. Windsor had 40 tackles and three and a half sacks in the 13 games he played in. Those numbers combined with the Nittany Lions success garnered Windsor with a third-team All-Big Ten selection at the end of the season.
Windsor has a lot to work to do if he wants to make an impact for the Colts on Sunday, especially since Ballard traded for DeForest Buckner last month and signed another Defensive Tackle in Sheldon Day a couple weeks ago.
"Robert Windsor is a bull in a china shop."

The #NFLDraft crew knows what @RobertWindsor54 brings to the table 💪#NFLDraft #MadeInHappyValley pic.twitter.com/gRYqqGMCZh

— Penn State Football (@PennStateFball) April 25, 2020
6th round, 32nd pick (211 overall): CB Isaiah Rodgers – Umass
The first of three picks in a row for Ballard was used on Massachusetts Cornerback Isaiah Rodgers.
Rodgers is small for a cornerback in both height and weight as he is only 5'10, 170 lbs. However, while at Umass, Rodgers was a lethal kick and punt returner.
At corner Rodgers notched a solid stat line during his senior season as he had 42 tackles, 10 pass breakups and four interceptions.
As a player who can return punts and kicks, expect Rodgers to be giving a chance to make an impact for the Colts on Sundays as a part of the special teams unit. However, Rodgers has a long way to go if he wants to see the field as a true Cornerback.
First team with three straight picks since 2015. 😅

(Also please meet @rodgers_isaiah)

📺: NFLN/ESPN/ABC pic.twitter.com/LZF3NJ47Ro

— Indianapolis Colts (@Colts) April 25, 2020
6th round, 33rd pick (212 overall): WR Dezmon Patmon – Washington State
One of the more underrated picks by Chris Ballard came with the second of three picks in a row during the sixth round on Saturday.
Dezmon Patmon out of Washington State is someone to keep an eye on once training camp starts. Patmon is tall as he stands at 6'4 and presents a large target for the quarterback to throw the ball to.
Patmon did not make a huge impact at Washington State as he only started four games his senior season. Patmon did have 762 yards receiving and eight touchdowns last year.
Though he may not of started much his senior year, Patmon showed to be an impact player when he stepped onto the field. With his huge frame and height, Patmon falls into the category of the receivers that both Ballard and Reich hope to make an impact for their team when it is needed most.
Loading up on offense.@dadpat7 | #ColtsDraft

📺: NFLN/ESPN/ABC pic.twitter.com/Q3RkVwPn7C

— Indianapolis Colts (@Colts) April 25, 2020
6th round, 34th pick (213 overall): LB Jordan Glasgow – Michigan
With Ballard's final pick of the draft and the third pick in a row during the sixth round, Jordan Glasgow from Michigan University was selected.
Glasgow was known for his impact on special teams with the Maze and Blue and was a disruptive force at the Will Linebacker position during his fifth year.
Last season Glasgow had 89 tackles, five sacks and one blocked kick. Glasgow will be asked to contribute to special teams for the Colts and will have the opportunity to prove why he belongs on the special teams unit.
Round 6, No. 213 overall: @Colts select @UMichFootball LB Jordan Glasgow.https://t.co/AiY1CKygKA#NFLDraft

— NFL Draft (@NFLDraft) April 25, 2020
Summary
This is looked at as an extremely successful draft for Chris Ballard and his staff. Going into Thursday night, Ballard had seven total picks and at the end of the draft on Saturday, Ballard had made nine selections. Ballard both traded up in the draft, to grab Jonathan Taylor, and traded down in the draft to accumulate more sixth round picks.
Ballard and Reich selected Wide Receiver Michael Pittman Jr. with their first pick of the draft and Pittman Jr. hopes to be the immediate impact player that both Ballard and Reich think he is.
Julian Blackmon is a name to watch out for. If Blackmon recovers well from his non-contact knee injury, he had such a great career at Utah, whose defense was as good as anyone's in college football last season, to where he could be a game changer in the Colts secondary.
Maybe the biggest news of the draft was when the Colts selected Jacob Eason. Eason will learn behind both Rivers and Brissett and could possibly be the guy to lead the Colts in the future.
Everyone selected after the third round will have work to do if they want to start and play on Sundays. Out of the players selected later in the draft, Pinter and Patmon have great opportunities to contribute sooner rather than later.