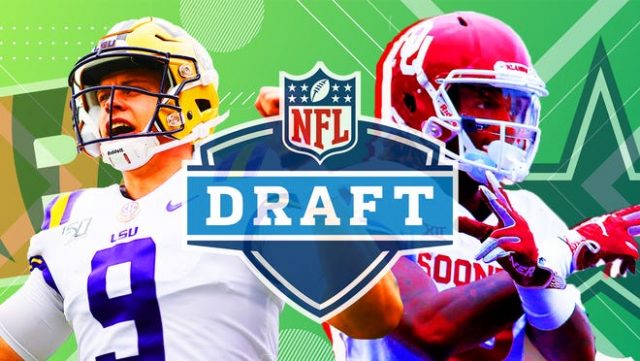 With the spread of COVID-19, almost all major sporting events have been cancelled or postponed. This has not only left athletes to practice inside their homes, or ESPN to play reruns of games, but also fans have nothing to cheer for.
The NFL Draft was the first major sporting event that happened during the pandemic. However, it was not the big production in Las Vegas that it was supposed to be.
NFL Commissioner Roger Goodell welcomed prospects to teams and interacted with players and fans via zoom to make the night a success. The night was also a success in fundraising to benefit COVID-19 relief efforts across the United States.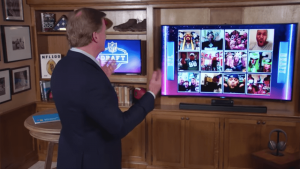 Draft-A-Thon LIVE paid tribute to healthcare workers, first responders, and other frontline workers. According to the NFL, an average of over 5.4 million daily viewers watched over 46.7 million total minutes of Draft-A-Thon, and funds raised supported six national nonprofit organizations. To date, the NFL has raised more than $100 million in COVID-19 relief.
"The theme of hope is always prevalent in the NFL, especially with regard to the Draft," said Goodell. "In 2020, that's especially true, as we help honor healthcare workers, first responders, and others on the front lines of the battle with COVID-19 while giving our fans something to cheer about as we celebrate the next generation of NFL stars."
The 2020 NFL Draft also set new all-time highs in media consumption, with over 55 million total viewers, and an average audience of 8.4 million viewers who watched all three days.
ESPN President Jimmy Pitaro is happy that ESPN was able to play a role in putting on such a unique event to a record number of viewers. 
"The success of this year's Draft is a testament to the unprecedented collaboration across the NFL, ESPN, and The Walt Disney Co. in the midst of such a challenging time," Pitaro said.
Head Coaches and General Managers sat in the comfort of their own homes, or in Jerry Jones' case, the comfort of his 250 million dollar yacht. Players were surrounded by family on their special night, and were supplied with hats for every NFL team to be sure they were ready when they were drafted. 
There were over 600 camera feeds in the homes of everyone from the Commissioner, Draft prospects, NFL Head Coaches, General Managers, Fans and College Football Coaches.
The NFL utilized technology from partners such as AWS, Verizon, Microsoft and Bose to ensure success with video feeds, phone connectivity for remote locations, communication and audio. 
Many fans took to Twitter to express how much they enjoyed this year's NFL Draft. Some even say they wish every year would be virtual to see players' raw emotions with their families.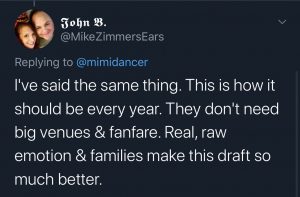 Overall, the 2020 NFL Draft meant a lot for the sports world. It gave sports fans something to look forward to and watch live, to make up for the past month of cancellations. It allowed coaches and players to celebrate with their families and prepare for their next chapter of football. But most importantly, it supported COVID-19 relief. 
"This Draft is the latest chapter in the NFL's storied history of lifting the spirit of America and unifying people," Goodell said. "In addition to celebrating the accomplishments of so many talented young men, we were pleased that this unique Draft helped shine a light on today's true heroes – the healthcare workers, first responders, and countless others on the front lines in the battle against COVID-19."
While next year's NFL Draft will be held in Cleveland, Ohio, Goodell announced that the 2022 NFL Draft will be held in Las Vegas, to make up for this year.