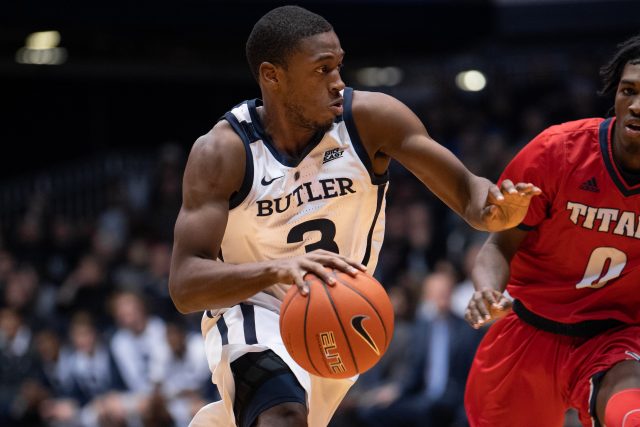 Tempo. Rhythm. A relaxed state of mind.
These are all qualities that the best basketball players in the nation understand. Controlling a game's tempo dictates how quickly baskets are being scored. Additionally. It's how much time you have to breathe before you're transitioning between offense and defense. Getting into a rhythm is key to finding success when shooting. Maintaining form and balance when releasing the ball is important so one doesn't release to early/late and over/under shoot the basket. When the game is in close scenarios, keeping a clear head and staying focused allow players to execute plays to benefit the team and attempt to win the game.
Traits like these are what make Butler's star guard, Kamar Baldwin, such an elite player. He's composed, patient, and executes in the most pivotal of circumstances.
When he's not hitting game winning buzzer beaters against opponents like Villanova and Xavier, he's like most students. He carries hobbies with him to keep occupied. Baldwin's choice in hobby possibly translates very closely to the qualities that make him an exceptional basketball player.
When Baldwin first came to Butler, he was an exploratory student taking Human Movement and Health Science Education courses. Midway through his sophomore year, he felt he needed a change. It was then that he discovered the College of Communications Music Industry Studies program.
"I met up with Professor [Cutler] Armstrong and he gave me a tour of the facilities and told me what the classes were all about," Baldwin said. After witnessing the capabilities of the recording studios in the Fairbanks Building and hearing of the interactive coursework, he made the switch to get active in his new major.
Baldwin had previous experience with music before coming to Butler. Growing up, he played drums along with xylophone in the percussion section for his middle school's band. He says that picking up the sticks is a bit of a family tradition.
"My auntie's first born is ten years older than me and was the lead drummer for our church," Baldwin said. "I came up after him and I learned how to play from him. Once he left and went off to college, I then became the lead drummer. I have a younger cousin that also played. So once I went off, then he became the drummer."
Because of this tradition, Baldwin tends to stick to playing gospel music. He says the genre blends a mixture of pop and rock rhythms, enabling both slow and upbeat tempos. Finding the ability to bounce back and forth between styles was something he enjoyed practicing.
In time, Baldwin moved on from playing drums and focused more on the technical side of music. He still enjoyed finding the beat, the heart and soul of a song.
"When I first became a Music Industry Studies major I wanted to make my own beats and things like that, but it became difficult because I didn't have the time to commit to it," he said.
While still trying to juggle practices and games along with his musical interests, he had to put his eggs in a different basket. He took time his first year in the major to learn new musical details, such as use of different microphones and how to conduct a recording session. As a junior he took a course that enabled him to get into the field and get more directly involved with what his interests were.
The class helped him discover the role of a sound engineer, who helps to edit songs in the post-production phase. Once he found his talents for the role, he began to dive deeper into it on his own time.
"I've been trying to work on some stuff on my own. It's a bit hard but you can watch tutorials on YouTube and read up on things so you can learn for yourself how you actually want to get stuff done."
Baldwin says his role as a sound engineer is to get a sense as to what the artist's style is and create something they'll like from what's already been recorded. "I try to clean it up and make it sound good in any way possible," he said. "Making sure all of the instruments are at the proper volume, or if you need to bring the bass up or use a little less guitar. Bringing in EQ [Equalization] and taking it out. It's a lot of trial and error to find what sound fits best."
Despite the work being time consuming, Baldwin says that the work is worth it. He understands that the artist has a specific vision for their music and his aim is to help them reach their goal for what the song is to sound like.
He completed an internship in the summer of 2019 with ESPN Radio's Indy affiliate 1070 theFan. While it wasn't focused on music, he did find some beneficial takeaways.
"You have to find your audience. What they like to hear and pinpoint conversations to what everyone is talking about," he said. "You don't want dead air. Finding the ability to continue communication with people for interviews or people calling in, or just between you and your partner…"
Baldwin expects that he'll be continuing to play basketball somewhere after he graduates. Still, he has thought of his future in both music and radio. He's considered getting back to drums and possible joining a band one day. His other possibilities with radio could steer him the route of an analyst for basketball games.
The music industry is one that is constantly changing, meaning the personnel in it are always making adjustments for the business. Given Baldwin's ability to lead a team in one of the wildest seasons of college basketball, he should fit right in wherever he ends up.