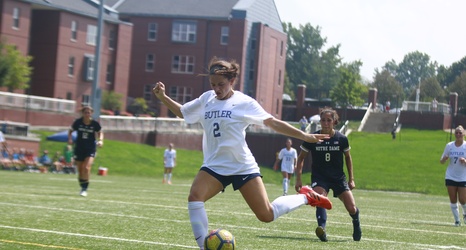 Butler women's soccer kicked off the season down the road to face off against University of Indianapolis Tuesday, Feb 9. After 14 months, the Bulldogs came back kicking as they put the ball in the back of the net eight times resulting in an 8-0 victory.

Sophomore Maddie Farnsworth put the Bulldogs on the board within the first 10 minutes of the match. This would be Farnsworth's first goal as a Butler Bulldog and the game-winner. Then Anja Savich, Preseason All-Big East Team selection, would find the back of the night for her first goal of the night. Savich was tied for first on the team in goals last season and was able to find the back of the net for her second time of the night off of a penalty kick. Butler would lead Indy 3-0 at the end of the first half.

Sophomore Gretchen Skoglund also scored her first goal in a Butler uniform with the first goal of the second half to extend the lead 4-0. Skoglund would then score again twenty minutes later for her second of the night.

Gabby Smith would also record her first career goal followed by Amanda Kowalski. Freshman Becky Dean closed the score sheet scoring the final goal of the game and her first as a Butler Bulldog.

A total of six Bulldogs recorded goals in the first match of the season. Skoglund led the match with two goals and an assist followed by Savich's two goals. Smith and Kowalski would also pick up an assist each in addition to their goal. Katie Soderstrom, another Preseason All-Big East Team selection, also recorded an apple. Soderstrom led the team in assists last season with seven and was tied with Savich for most goals at eight. Stephanie Rodriquez was also honored as Preseason All-Big East Goalkeeper of the year completed her first shutout of the season with two saves.

Next the Bulldogs game will host Ball State at Grand Park in Westfield, Indiana on Friday, Feb.12. Kickoff is at 2 p.m.