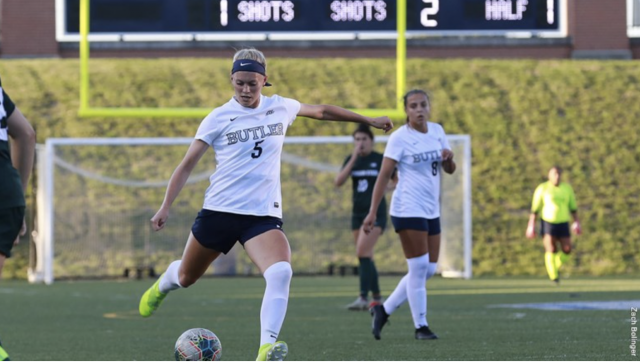 The Butler Women's Soccer team is ready for their spring 2021 season. After the Bulldogs fall campaign was canceled due to the COVID-19 pandemic, the team was excited to hear they would have an opportunity to compete in the spring.
The Bulldogs are coming off a season in which they finished 10-5-4 and lost in the Big East Tournament to Providence on penalty kicks. Butler graduated six seniors last year and had an incoming class of six.
The new Dawgs on the block are Anna Schroeder, Arianna Jalics, Claire Darrington, Caitlin O'Malley, Justina Gaynor, and Alli Leonard. The new additions are well experienced and ready to contribute to the immediate success of the program.
O'Malley, Gaynor, and Leonard all got the nod in the first starting 11 of the season and played considerable minutes in their season opener.
Butler is returning many of their stars from a year ago with Katie Soderstrom and Anja Savich, who were both Preseason ALL-BIG EAST selections. Along with Soderstrom and Savich, standout goalkeeper Stephanie Rodriguez was named the Preseason BIG EAST Goalkeeper of the year.
Soderstrom had eight goals and seven assists, while Savich added eight goals as well with five assists. Rodriquez is tied for fourth all-time in Butler history with ten shutouts in her career. She earned her tenth in the season opener at UIndy in the Bulldogs commanding 8-0 win.
The Bulldogs are poised for another great season and hope to be in contention for the big dance, which will be held in San Jose, Calif., from May 13-17. The Bulldogs are back in action on Wednesday, Feb. 17, in their home opener, as they will take on the Marian Knights at noon at the Sellick Bowl.