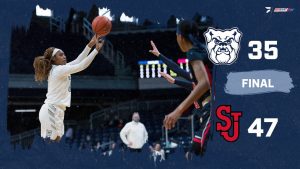 Over the weekend, St. John's Red Storm visited historic Hinkle Fieldhouse for a matchup with the Butler Bulldogs. The Red Storm went on to beat the Bulldogs 47-35 in a defensive battle between both teams.
St. John's started the game on a 10-0 run, while Butler struggled from the field shooting 0-8 to start the game. At the end of the first quarter St. John's led 14-4.
Defense would continue to be the common theme throughout the second quarter. Both teams traded a pair of three-point baskets during crucial possessions. St. John's headed to the locker room with a 22-17 lead over the Bulldogs.
Despite the tough defense from St. Johns, Butler was able to stay hot from the three-point line to start the second half. Butler went on to take their first lead of the game and outscored St. John's 15-13 in the third quarter.
At the end of the third quarter St. John's led 35-32.
Defense would continue to be St. John' strength in the fourth quart after allowing Butler's first basket with 1:27 left in the game. The Red Storm outscored the Bulldogs 12-3 in the final quarter of play and held them to just 22 percent from the field during the entire game.
St. John's secured their sixth win of the season with a 47-35 victory over Butler.
Genesis Parker led Butler with nine points, while Jaia Alexander contributed eight points and six rebounds.
Butler will return to action on Tuesday, Feb. 16 at Villanova at 7 PM.