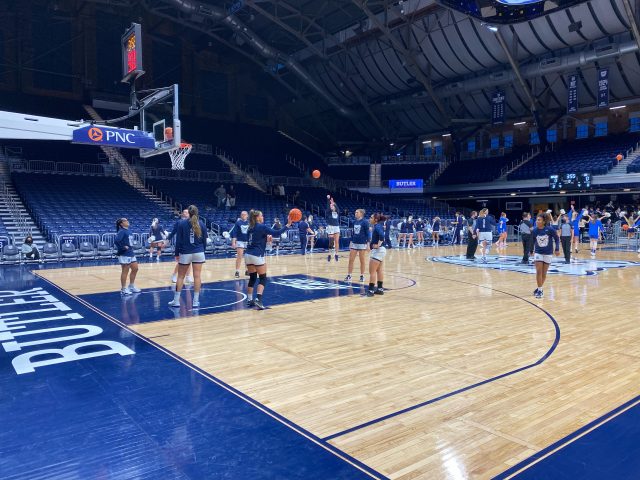 By: Eric Young
The Butler Bulldogs Women's Basketball team lost their third consecutive game in a row Wednesday night as they fell at home to Big East foe Creighton, 95-44. The Bulldogs were led in scoring by freshman Trinity White who finished with 12 points. White was the lone bright spot for Butler as she was the only player to score in double figures. White also finished tied for second on the team in rebounds for the game with three. With the loss Butler drops to 1-13 on the season and 0-4 in Big East play. 
How it Happened: After a competitive start to the game, the Bluejays got hot from the field, thanks in part to Emma Ronsiek and Rachael Saunders who combined for 14 of Creighton's 24 points in the first quarter. Creighton continued its hot shooting into the second quarter as they outscored Butler 24-8, and held Butler scoreless in the final three minutes of the half. Ronseik was responsible for 17 points in the first half, shooting 7-10 from the field. The Bluejays shot 56% from the field in the first half, including 7-17 from three point range, giving them a comfortable 48-19 halftime lead. 
In the second half the Bluejays utilized much of their bench with their sizable lead, yet the Bulldogs failed to show any significant improvements. Rebounds were hard to come by for the Bulldogs throughout the game. Creighton outrebounded Butler, 38-17, allowing for 16 second chance points. The Bluejays also forced 14 turnovers, and scored 20 of their points off of Butler turnovers. Butler, a team who relies heavily on their three point shooting, were held to just 15% from three against Creighton. Creighton improved to 13-4 overall and 8-1 in the conference with the win, keeping them in second place in the conference standings.
Up Next: The Bulldogs will remain at home on Friday as they face the DePaul Blue Demons (14-4, 6-1) at 7 P.M. The Blue Demons received votes in the AP Top 25 this week and have already defeated the Bulldogs earlier this season, 101-64, on December 3, 2020.