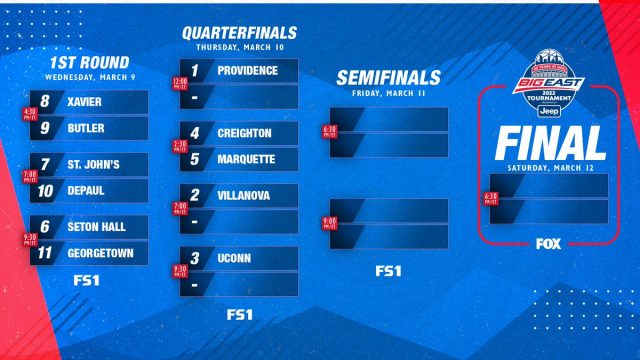 Big East Tournament.
March 9-13.
Madison Square Garden. 
In less than 24 hours, one of the most storied college basketball tournaments will be underway once again. Following the Big East's early season performance in the Gavitt Tipoff Games and the Big East/Big 12 Challenge, the Big East established itself as one of the most dominant, if not the most dominant conference in college basketball.
Who will take the crown and stamp their ticket to the Big Dance? Here's a in-depth look at all you need to know for the 2022 Big East Tournament, along with some of the favorites, the hopefuls, and the teams that are in need of a miracle.
Teams with no chance of making a run: 
11 seed – Georgetown:
Yes, Patrick Ewing and the Hoyas surprised the college basketball world last season with an unbelievable tournament run to secure an automatic bid to the NCAA Tournament, but that kind of surprise is out of the question this season.
Last season the Hoyas still won seven regular season conference games, this season they haven't won a single one. The good news for Hoyas fans is that their abysmal season should be put to an end on Wednesday as they face a surging Seton Hall. 
First matchup: vs 6 Seton Hall. Wednesday, March 9, 9:30 PM
Teams in need of a Miracle:
10 seed – DePaul: 
The Blue Demons are making noise at the right time, taking down Marquette and St. Johns, and narrowly fell to Connecticut to close out the season. If there was one team to repeat Georgetown's miracle run last season, it would be DePaul.
The Blue Demons also feature an NBA caliber player in Javon Freeman-Liberty. Freeman-Liberty is averaging an eyebrow raising 21.9 points per game this season, and even dropped 39 points in the win against St. Johns on February 27. To make things even more interesting, the Blue Demons face St. Johns again on Wednesday to kick off their Big East Tournament.
One thing is for sure, all eyes will be on Freeman-Liberty for that matchup. The only issue for DePaul is, should they beat St. John's, they will have to face Villanova in the second game. Though eerily similar to Georgetown's run last year, the Blue Demons would be facing the Wildcats and Collin Gillespie, should they knock off the Red Storm.  
First matchup: vs. 7 St. Johns. Wednesday, March 9, 7:00 PM
9 seed – Butler:
Picked sixth in the Big East preseason poll, the Bulldogs have been one of the biggest disappointments in the conference this season. As the nine seed, Butler still has a shot, especially as they face a struggling Xavier team in the first round and could then potentially face a Providence team who they came close to beating twice this season.
It would take a miracle to win both of those games though, as Butler has been very inconsistent offensively this season. Cold shooting and an inability to rebound missed shots have made it difficult for Butler to sustain their usually solid defense.
One upside for Bulldogs fans is that Graduate Senior guard Bo Hodges has provided a much needed energy for the Bulldogs late in the season since his return from injury in January. Ultimately a lack of consistent scoring ability to pair with Hodges in LaVall Jordan's half court offense will make things difficult. 
First matchup: vs. 8 Xavier. Wednesday, March 9, 4:30 PM. 
8 seed – Xavier: 
At the end of January it appeared that the Musketeers had all but locked up a tournament bid…and then February hit. Xavier only won three games in the month of February and all of sudden the Musketeers are playing for their NCAA Tournament lives in round one of the Big East Tournament against Butler on Wednesday.
Sound familiar? That's because a similar situation occurred last season when Xavier ended their NCAA hopes last season in an upset loss in round one to Butler. Just like last season, the Musketeers also swept Butler in the regular season. Xavier will need to win both its first two Big East games to feel confident in their NCAA chances.
Xavier guard Paul Scruggs was once one of the hottest guards in the country early in the season, but has seen his play rapidly deteriorate. Without Scrugg's leadership and veteran play, Xavier is a completely different team. Zach Freemantle, a versatile forward has also gone cold as well. Head coach Travis Steele is likely coaching for his job in New York this week. 
First matchup: vs. 9 Butler. Wednesday, March 9, 4:30 PM. 
Teams with a fighting chance: 
7 seed – St. Johns: 
Guard Posh Alexander and forward Julian Champagnie have been a nightmare for defenses in the Big East this season. Stopping St. Johns and its fast paced offense will be difficult to stop for whoever they play in the conference tournament. However, the Red Storm's defense has been a concern, particularly on the perimeter.
The Red Storm tend to win their games by simply out shooting their opponents. St. John's can not afford to go cold from the floor as there are a number of teams in the conference who have the ability to keep pace with the Red Strom's scoring, including their first round matchup with DePaul. 
First matchup: vs. 10 DePaul. Wednesday, March 9, 7:00 PM
6 seed – Seton Hall: 
One of the hottest teams in the conference, the Pirates are winners of five straight and could not be peaking at a more opportune time. Seton Hall is also the team with the deepest front court in the conference, led by forwards Alexis Yetna, Ike Obiagu, Tyrese Samuel and Tray Jackson.
These four forwards have been interchangeable throughout the season and are all averaging between 18-24 minutes per game this season. Seton Hall is led in scoring by 6-6 guard Jared Rhoden who is averaging 16.2 points per game, fifth best in the Big East. Competing against Seton Hall's height will be a challenge for any opponent they face. 
First matchup: vs 11 Georgetown. Wednesday, March 9. 9:30 PM
5 seed – Marquette: 
Head coach Shaka Smart has done an exceptional job of turning the Golden Eagles around in his first season, especially considering the turnover following last season. Now the question becomes, are the Golden Eagles talented enough to make some noise in March, starting with the conference tournament.
A seven-game winning streak in the month of January put Marquette on the front pages, but after an inconsistent February, Marquette does not appear to be the contender it once looked like.
Marquette has plenty of scoring talent in Justin Lewis and Darryl Morsell and Marquette also leads the conference in field goal percentage. One factor that may plague the Golden Eagles is their inability to rebound. Marquette averages just 7.7 offensive rebounds per game, last place in the Big East. A matchup against a team like Seton Hall or UCONN would not be favorable for the Golden Eagles. 
First matchup: vs. 4 Creighton. Thursday, March 10, 2:30 PM
4 seed – Creighton:
The Blue Jays are a team that have also had their fair share of luck this season, winning a number of one possession games. Creighton came out of nowhere this season and successfully coped with the loss of Marcus Zegarowski and Denzel Mahoney from their Sweet 16 run last season.
Guard Alex O'Connell, who transferred from Duke prior to the 2020-21 season, has shown massive improvements from a year ago and has provided the Blue Jays with much needed veteran experience and a reliable scoring option.
Creighton's six game winning streak in the month of February turned the tide for the Jays and made them an interesting dark horse candidate in the Big East Tournament. Creighton also managed to sweep the Huskies in the regular season which proves they have the talent to compete with the top, despite multiple questionable losses this season.
First matchup: vs. 5 Marquette. Thursday, March 10, 2:30 PM
The Favorites:
3 seed – Connecticut: 
Perhaps the team with the best chance of going toe to toe with Villanova are the UCONN Huskies, who handed Villanova their last loss. UCONN has a size advantage over many of their opponents in the Big East Tournament.
The Huskies 6-9 sophomore forward, Adama Sanogo, is the difference maker for the Huskies and his success will likely determine the Huskies chances. Sanogo is dominant on both sides of the ball and is averaging 15.3 points per game, 8.6 rebounds per game, and has recorded six blocks in a game three times this season.
If facing a high scoring opponent like St. Johns, Marquette, or Villanova, the Huskies will need their Big East all first-team guard RJ Cole to be on point as well. Cole, averaging 15.8 points per game, was cold in the Huskies final regular season game against DePaul, finishing with just three points on 1-9 shooting. Though the Huskies didn't need Cole's scoring against Depaul, it is unlikely the Huskies could afford another such performance against Villanova or Providence. 
First matchup: vs. winner of Seton Hall/Georgetown. Thursday, March 10, 9:30 PM
2 seed- Villanova
A major disappointment in last season's conference tournament, the Wildcats should be in much better shape to avoid a similar scenario this season, thanks to the return of point guard Collin Gillespie. Gillespie missed the end of last season due to an ACL tear, and it was clear that Villanova was not the same without him.
Despite narrowly losing the conference regular season title to Providence this season, Wildcats fans should feel confident in their ability to win the tournament title as they have already swept Providence in the regular season and nearly swept a third place UCONN team as well, but lost a four point lead in the final 45 seconds in Storrs.
Overall, with the perimeter shooting talent of Villanova combined with their all american facilitator, Gillespie, it will be very difficult to catch Villanova on a shooting slump. The Wildcats have won six of their last seven games and are peaking at the perfect time. 
First matchup: vs. winner of St. John's/DePaul. Thursday, March 10, 7:00 PM
1 seed-Providence:
Despite winning the Big East regular season title, the Friars still seem to get no love from the media. Many see the Friars numerous close games as a reason for concern. Though the fact of the matter is that luck is usually needed for a run in March.
Even if the Friars may have already used up all of their "luck" in the regular season, this team still has plenty of pieces to be successful in the Big East Tournament. As the number one seed they have a very favorable opening game in which they either face Butler or Xavier, two teams they have already swept in the regular season.
The Friars 6-10 center Nate Watson can almost certainly be counted on for the Friars, but he will be in need of some scoring help. 
The biggest concern for the Friars will be whether Al Durham is healthy enough to play in the Big East Tournament. With an NCAA Tournament bid and favorable seeding already locked up for the Friars, it will be interesting to see how much head coach Ed Cooley decides to use him in the conference tournament.
Durham, averaging over 13 points per game, was absent in a near road upset at Butler, which saw the Friars overcome an almost unheard of 19-point second half deficit in order to sneak away with an overtime victory. Durham also missed the regular season finale against Villanova, which saw the Friars lose by two. 
First matchup: vs. winner of Xavier/Butler. Thursday, March 10, 12:00 PM