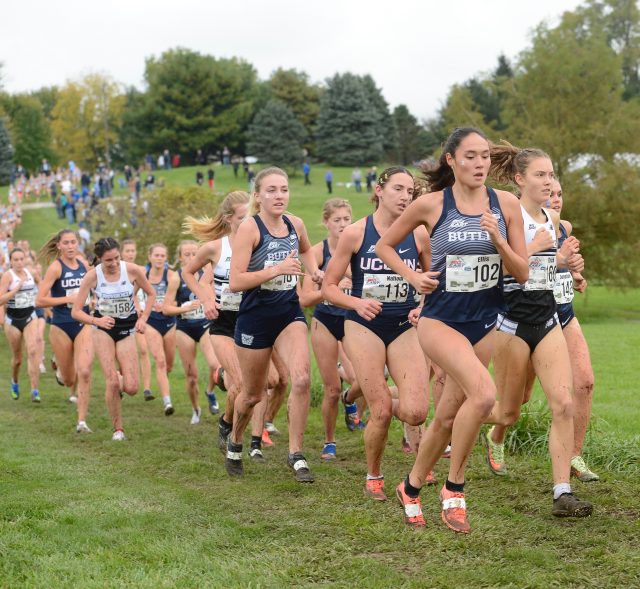 by Kate Fulton
While to most of us running is simply a way to get physical exercise, to the seniors on the Butler Women's Track team, it means much more. It's part of who they are, teaching them life lessons and allowing them to cultivate relationships that will last a lifetime. As their final season comes to a close, some of the seniors have reflected back on their time on the team and how it has impacted their lives.
Margo Hornocker
Margo Hornocker is from Sweetser, IN and runs the 5000 meter race. She joined the team as a freshman with big dreams and goals for herself and the team. Over the years, they have collectively been able to accomplish many of them. "It's been an amazing journey," said Margo. "I've seen us grow in our community. We truly love one another and work as a team. Our team has natural chemistry."
While running provides great fitness, it means much more to Margo. "I love the opportunity it brings," she said. "Running gives me an hour every day to talk to the people I'm with, to pray, or to think about anything and everything. I love that about it." Over her time on the team, the personal relationships and opportunities this experience brought has meant the most to her. "I've gotten to travel for running, which has been amazing. It has also brought me some of the best friends I've ever had!" she said.
One of the lasting memories she holds is of the "perfect" runs she has had. "I think what I'll remember the most are all of the runs that just felt perfect," she said. "I can remember one run in particular when the temperature was perfect, the conversation was great, and I was running in the back. I remember just looking up at the girls in front of me and thinking that I would stay in that moment forever, if I could. Those are moments that I take for granted at times when I'm feeling tired, but they're the ones I'll never get back."
Moving forward, one of the lessons she has learned and will take with her is that running is not her identity. "Running as a D1 athlete can be hard, and it can force you to be someone you aren't," Hornocker said. "I am a woman who runs, and I've had success, but I am not a runner and a runner alone, and that goes for anything I might try and take on as my identity." After graduation, Margo plans on staying in Indianapolis to work for her church and work towards opening her own business in the near future.
Emily Royston
From Waunakee, Wisconsin, Emily Royston mostly runs the 10K and some 5K races. Emily's path to the team was different than most. She was a transfer student, uncertain about how she would be part of the team chemistry. "As a transfer student coming in," she said, "I was so scared. Everyone already had their close friends, and I worried I wasn't going to fit in. Within weeks of getting here though, I felt so welcomed and so wanted."
That feeling has stayed with her throughout her running career at Butler, and transferring was one of the most meaningful and pivotal times in her life. "It gave me so much hope and helped me recognize that I was going through a really dark point in my life and that surrounding yourself with positive people makes all the difference," Royston said.
Despite a tough season last year due to injury, Emily has bounced back strong and with confidence, recently running in the 10K at the Raleigh Relays. Emily loves the escape running provides her. "I have really bad anxiety, so being able to put aside whatever is going on in my life and to just run is amazing," she said. One of her favorite memories was making nationals as an individual, then making it as a team. Emily said she realized how much better it felt as a team versus an individual in sharing the collective joy and celebration with her friends and teammates. "We wanted to make nationals as a team," she said. "I saw the grit and determination in everyone as we worked to get to that final goal. Once we did, it was celebrated as a team, and that made it so special. It wasn't done by any individual, rather the collective, and we all felt that energy."
When asked what she will take with her moving forward, she said, "my best friends and teammates, the girls that went through the darkest parts of my life and the highest highs with me." Following graduation, Emily will be attending medical school in New York state.
 Corinna Peña
Senior season has been the best season so far for Corinna Peña, a Naperville, IL native. Overall, she is feeling much more confidence in herself mentally, which has helped in her races. Corinna's favorite thing about running is the escape it gives her. "I love how it just gives you a break from life," she said. "School is really stressful, and running, while stressful, is a different kind of stress and gets you away from school or life stress."
Corinna has been on quite a journey over her collegiate running career, facing adversity and triumphing over challenges with determination and grace to come out on top. "I've always had mental issues with racing, which greatly impacts races as running is very much mental, and a lot of that has come in pre-race anxiety," she said. "I would get so nervous before a race, to the point where I would not be able to eat, and I would throw up from nerves. Not being properly nourished led me to not believe in myself, and my races would go poorly."
Over time, and with a lot of hard work, she has gotten more consistent, taking care of herself both mentally and physically to relieve the pressure she placed on herself to come out stronger on the other side. "I would mostly try to get my mind off the race or simply try not to care about it. I found that as soon as I got into a race, I would put my all into it, so "not caring" about it beforehand would help tremendously as it would allow me to eat and be fueled going into a race."
Peña has also worked hard to transition from running for the approval of others, like coaches, parents and friends, to running for herself. "When I switched to not caring about what those people thought of me and just running for me, I became less anxious and would be more aggressive and smarter before and during races," she said.
Similar to Margo and Emily, the people have been the most meaningful for Corinna over the years. "The relationships I made with my teammates are the most impactful," she said. "I am forever grateful for all of them, and I know that we will be in touch long after college is over." The lessons learned through running can also be applied to life, as Peña described, and she will carry qualities like drive, grit and perseverance with her throughout her life. Corinna will be attending the University of Utah to get her PhD in physics upon graduation next month.
Despite the school year coming to a close and graduation a few weeks away, the track team will still be in action through the middle of May. This week, the team will travel to Azusa, California for the Bryan Clay Invitational from April 13 through April 16. The Mt. SAC relays will also be taking place this week in Walnut, California on Thursday, April 14. These next few weeks of meets will lead up to the Big East Outdoor Championships in Storrs, Connecticut on May 13 and ultimately the NCAA meet later in May. Congratulations to all senior members of the Women's Track team, and thank you for your contributions to the Butler community.