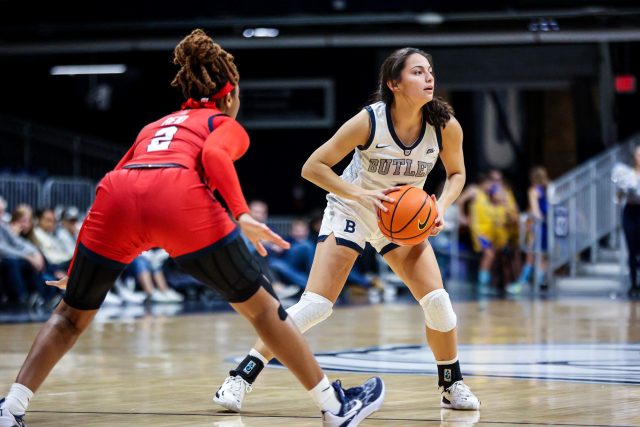 First-year Jessica Carrothers scored seven points in the loss to UConn on Jan. 21. Photo by Claire Runkel.
The Butler women's basketball team picked up their ninth conference loss with a 79-39 loss at No. 5 UConn. The Bulldogs were led on offense by sophomore forward Sydney Jaynes who scored seven points and grabbed four rebounds. First-year guard Jessica Carrothers also contributed seven points and junior forward Anna Mortag chipped in six points and five rebounds.
The Bulldogs jumped out to a 13-10 lead after the first quarter, but the Huskies took the lead in the second quarter and never looked back. Junior Aaliyah Edwards led all scorers with 20 points. Graduate Lou Lopez Senechal and redshirt junior Audrey Griffin each scored 17 points. Graduate Dorka Juhasz added 14 points to round out the double-digit scorers.
Let's go beyond the box score to recap the Dawgs' defeat.
Scoring woes
The Bulldogs in conference play are shooting 39.6% from the field and in this game, they shot 25.9% from the field. In the second quarter, the Bulldogs were outscored 26-6. In two of the quarters, they were held to under 10 points. The Huskies ended the opening half on an 11-0 run to go into the break leading 36-19.
A positive from the game was that six different players made a three-point field goal. The Bulldogs continued their theme of shooting better from long distance than their conference opponents as they hit more three-pointers than UConn and shot at a better percentage.
Defense
The Bulldogs have struggled in conference play and have allowed their opponents to score 70.7 points per game. The Huskies scored 38 points in the paint and the Bulldogs could not defend down low.
A positive of the defensive performance was in the first quarter. The Huskies were held to 28% and made four field goals. 
Looking ahead
Butler will take on the St. John's Red Storm at Carnesecca Arena in Queens, New York on Jan. 25. The Bulldogs lost earlier in the season to the Red Storm 65-57.