ART NOW – APRIL 22 (opening, 5-7 p.m.)
and April 23 (9-5) See the promo video!
Art Program students will showcase their work in a series of exhibitions at the end of April. These exhibitions are open to the public – all are welcome! ART NOW features work of first-year, sophomore and juniors completing an Art+Design major or minor, as well as non-majors taking PCA200 Perspectives in the Creative Arts-Introduction to Visual Art as part of Butler's core curriculum. A wide variety of media will be shown, from more traditional (drawing, painting, sculpture, photography) to progressive (interactive works, 3D prints and even performance art). The exhibition opens on April 22 from 5-7 p.m. in the Reilly Room at Atherton Union and will be open from 9-5 on April 23. Most works are for sale with all proceeds going directly to the student artists–bring your checkbook! First-year Art+Design major Margaret Citron ('17) designed the poster for ART NOW. Kelsey Nylin ('14) and Kaylin Greer ('17) were responsible for the promo video, which also features Joel Fuller ('16) and Emma Landwerlen ('16).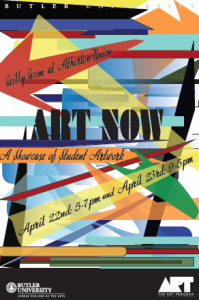 Art Now Spring 2014 Poster, by Margaret Citron ('17)