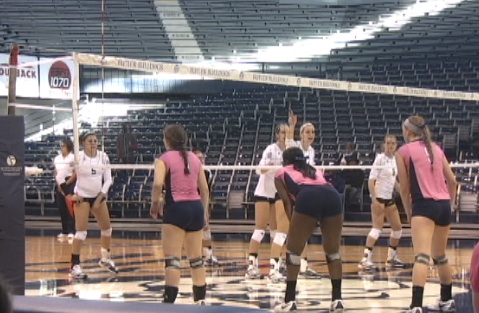 By Savannah Boettcher
Seniors Genevieve Ferris, Meredith Hunter-Mason and Julia Guiheen performed in their final Nutcracker production for Butler Ballet over the weekend.
They performed the show six times in Clowes Memorial Hall over four days. The women danced in the Nutcracker from their freshmen to senior years at Butler. Each of the women held prestigious roles in their most recent Nutcracker.
Hunter-Mason met both Ferris and Guiheen prior to college. She introduced the two their freshman year and the three have since become inseparable.
The three seniors live together and spend much of their time together. Dance is a time intensive major and requires hours of rehearsal time.
Ferris, Hunter-Mason and Guiheen share the same major and passions. They have grown together as friends and dancers in their Butler Ballet careers.
"Being in a group of people that are all so passionate about dance in different ways reaffirmed my passion for dance, which I think is really cool that we all have this one very strong thing in common," Hunter-Mason said.
Outside of dance, the three enjoying travelling together. Their most recent adventure over fall break took them to Nashville. One of their favorite trips together was one to their hometowns.
"We did a road trip – we all live on the East Coast – so we went to, like visited, each of our houses and stayed there for the whole time," Guiheen said. "It was really fun to show each other around where we grew up and stuff like that – all the places I had known from them talking about it, to actually see it was really fun."
Guiheen also said that while she knows she will make more friends in the future, she will miss the togetherness she feels with Ferris and Hunter-Mason.
Their final performance for Butler Ballet will come during the Spring Production of Cinderella.
"It's been just a great experience," Ferris said. "And I don't want it to end."