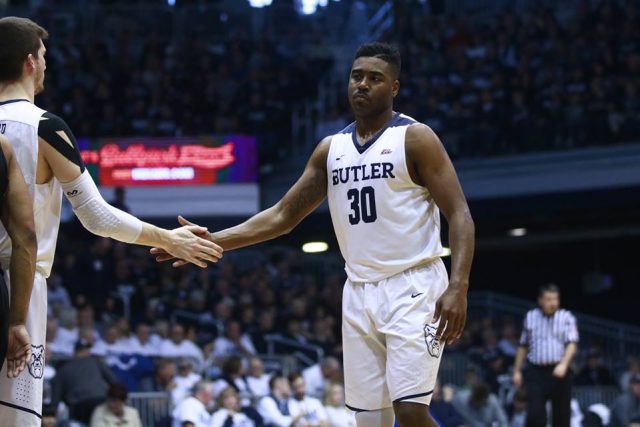 Photo by Jimmy Lafakis
By Collin Perry
The Butler men's basketball team dominated their final home game of the season, beating Creighton 93-70 on Feb. 20.
After trading buckets early, the Bulldogs took off offensively, taking a 46-34 lead at halftime. Redshirt junior guard Paul Jorgensen came off the bench and led the Bulldogs with 10 points in the first half, going four-of-five from the field and hitting both of his three-point shots. Butler finished the half shooting 8-12 from behind the arc while holding the Bluejays to six trifectas by halftime.
The Bulldogs pulled away in the second half and did not look back. Creighton shot just 18 percent from 3-point land and only totaled 10 second half rebounds. The Bulldogs finished 14-26 from three and 54 percent from the field. Senior Kelan Martin totaled 18 points in the second half and finished the game with a team-high 26 points. Jorgensen and junior center Nate Fowler joined Martin with double-digits in the scoring column, with 17 and 15 points, respectively.
One key for the Bulldogs' success was forcing turnovers. Butler turned the ball over nine times, while Creighton committed 14 turnovers. Butler outscored Creighton 22-9 off of those turnovers.
Another key for Butler was bench scoring. The Bulldog bench contributed to 43 of the team's 93 points. The Butler non-starters outscored the Creighton bench 43-31 in the game. Butler's bench shot 64 percent on the game.
The Bulldogs move to 19-10 on the season and 9-7 in Big East play. Butler's takes a trip to Queens for a matchup with St. John's at Carnesecca Arena on Feb. 28 for their next game. Creighton heads back to Omaha to face No. 3 Villanova on Feb. 24.