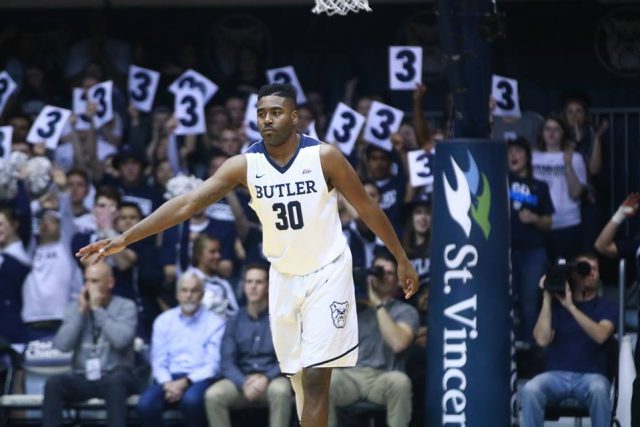 Photo by Jimmy Lafakis
By Collin Perry
Butler men's basketball plays host to the Creighton University Bluejays in their final regular season game at Hinkle Fieldhouse this season. This will be the last home game for seniors Kelan Martin and Tyler Wideman, who were four-year starters for Butler in their respected careers. The game will tip off at 7 p.m. and will be televised on Fox Sports 1.
1) Bulldogs building momentum heading into March
Butler bounced back after a three-game losing stretch to record their 18th win of the season, defeating Providence 69-54 at Hinkle on Feb. 17. The Bulldogs held the Friars to just five made shots in the second half. The win also put the Bulldogs to 8-7 in Big East play and moved to fifth place. There are just two more games left for Butler after the Creighton game, both taking place on the road, at St. John's and at Seton Hall.
2) Martin putting up magical numbers
Martin leads the conference with an average of 23.1 points per game in conference play. He has scored over 20 points in 10 Big East games this season. Also, Martin is fifth all-time in Butler scoring with 1,883 career points and is just one of 42 players to score more than 1,000 points in Big East play alone. He's currently in the final 10 candidates for the Julius Erving Award for college basketball's best small forward for the second straight year.
3) Looking for revenge
Creighton took the first matchup over Butler 85-74 in Omaha on Jan. 9. The Bulldogs made a late comeback to get within six points with under five minutes left, but the Bluejays held on. This is the 17th matchup between the teams, with Creighton holding the advantage 10-6. The Bulldogs have lost their last three games against Creighton dating back to the 2015-16 season.
4) Defense key for Bulldogs
The win over Providence was the second-best defensive performance for Butler this season, holding the Friars to just 54 points. The only other game the Bulldogs held a conference opponent to less was St. John's, who scored 45 points at Hinkle on Jan. 27. The Bulldogs are 13-1 on the season when holding their opponent to under 70 points. However, holding Creighton to under 70 points will be a challenge, as the Bluejays average 85.4 points per game, which is the sixth best offense in the nation.
5) Back-and-forth Bluejays
The Bluejays have alternated wins and losses for their last six games. Creighton lost their last game 90-86 to Marquette at home. Head coach Greg McDermott's team is 7-0 this season after a loss. Also, Creighton is looking for their 20th win of the season, which would be their third straight 20-win season. The Bluejays have three conferences games remaining. They will host Villanova and DePaul before closing the regular season on March 3 at Marquette.