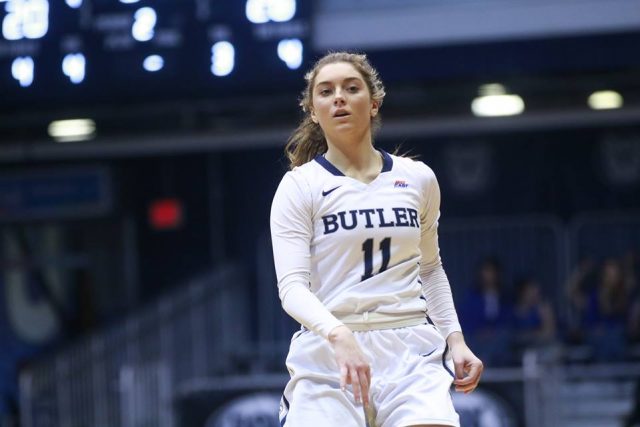 Photo by Jimmy Lafakis
By Jacob Mummert
Butler's Women's basketball team had two games this weekend against Providence and Creighton, both on the road. The Bulldogs started off well on Friday with a 69-48 win over the Providence Friars. The Bulldogs were down by two after the first, but battled back in the second outscoring Providence 22-8. Junior Forward Tori Schickel lead the way for the Bulldogs in the second quarter scoring six straight points to begin the quarter. This led Butler to 30 points in the paint for the outing. The Friars tried to come back cutting the lead to just nine, but the Bulldogs didn't let them get any closer. Butler responded by shooting three straight 3-pointers. From there, the Bulldogs cruised to victory. Schickel ended the game with 12 points, seven boards, and a team-high six assists. Four Bulldogs ended the contest in double figures. Junior guard Michelle Weaver led Butler with 20 points. Redshirt-junior guard Whitney Jennings wasn't too far behind her scoring 14 and sophomore guard Kristen Spolyar ended with 13. Iman Lathan led the team with 10 boards.
Despite this effort the Bulldogs couldn't continue their winning-ways at Creighton on Sunday. Butler fell 64-55 to the Creighton Bluejays. Creighton had a lot of momentum in this game, celebrating their seniors before the contest. Butler got out to a slow start in the first half, but was only down five going into halftime. The Bluejays had seven different players score in the first quarter. The second half started well for the Bulldogs with Jennings nailing a 3-pointer. Creighton followed this up with a timeout and a 12-0 scoring run. The Bulldogs trailed by seven going into the final 10 minutes. Creighton's offense was too much for Butler and closed out the game. Schickel led the scoring for the Bulldogs in this with 20. The only other Bulldog in double figures was Jennings with 10. Spolyar and Weaver led Butler defensively with three steals a piece.
The Bulldogs will play their final regular season game Sunday, Feb. 25 at Xavier. After that Butler will go to downtown Chicago to the Wintrust Arena to compete in the BIG EAST women's basketball tournament March 3 through March 6.