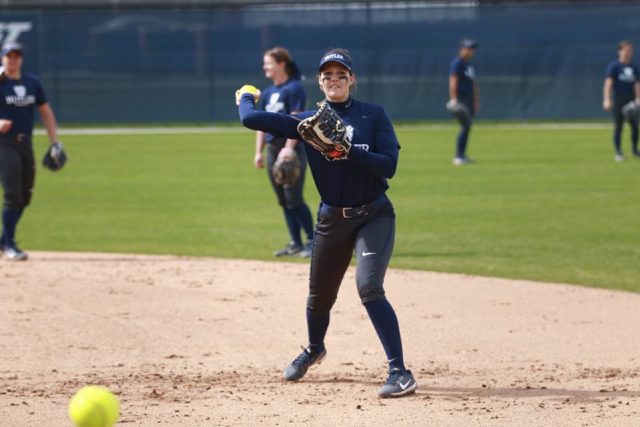 By Jacob Marcheschi
Butler softball won both of their midweek games this week, taking the wins over Ball State at home and University of Illinois-Chicago in the windy city.
In the first game of the week, the Bulldogs beat the Cardinals 9-3. Butler got 4.2 innings of two-run ball from freshman starting pitcher Alyssa Graves. She gave up three hits and walked six, but also struck out seven Cardinals. The Butler offense was firing on all cylinders as nine different Bulldogs came up with at least one hit. Butler opened the scoring with a Kaitlin Doud RBI-single followed by a Sarah Dixon sacrifice fly. The Dawgs blew the game wide open in the second inning, putting up six runs. Christina Candotti got the line moving with a solo home run. Doud, Dixon, Alyssa Lach, and Sammy Andersen also collected RBIs in the inning. Claire Gilliland also hit a home run in the fifth inning to extend the Butler lead to 9-2. Ball State would add a run in the sixth, but the Bulldogs came away with the six-run win.
Butler then travelled to Chicago to take on the UIC Flames. Butler took the 7-3 win behind a 3-run complete game from Doud. She gave up two earned runs on 11 hits, walked one, and struck out one. The offense was still a force, as Dixon and Gilliland both hit long balls, which scored three of Butler's runs. Right fielder Jenna Foreman also knocked three hits, all of which were singles. Butler went up 2-0 early before UIC came back to tie it. The Dawgs then scored five runs through the rest of the game and took the four-run win.
These two victories move Butler's record to 17-21 on the season, with a home series coming up against Providence this weekend.
Photo via Jimmy Lafakis