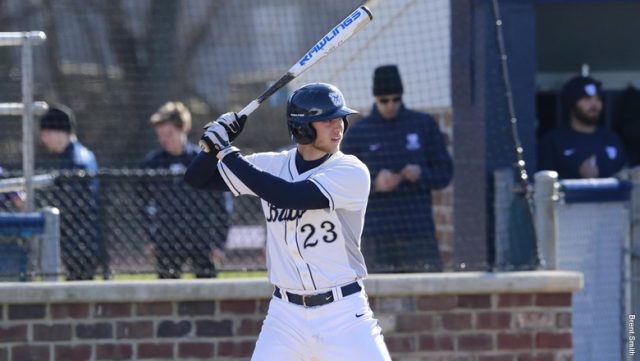 by Collin Perry
Butler baseball (24-11, 4-4 Big East) could not find a win at Bulldog Park this weekend. The Bulldogs dropped all three games to Seton Hall (17-14-1, 5-1 Big East): 6-1 on April 20, 3-0 on April 21 and 7-5 on April 22.
In game one, the Bulldogs started on top with a single in the bottom of the first by senior Garrett Christman that scored senior Gehrig Parker. However, the Bulldogs gave up five runs in the next inning, thanks to two errors and a three-run home run by senior Pirate Rob Dadona.
Seton Hall's Shane McCarthy kept the Bulldogs off of the scoreboard after that, pitching seven innings and only giving up one run and six hits for his third win of the season. Connor Mitchell took the loss after pitching four and a third innings and giving up three earned runs. The loss ended a six-game winning streak for Butler.
In game two, the Pirate pitching staff picked up after yesterday, with starter Ricky DeVito making his longest start of the season. DeVito pitched eight scoreless innings and racked up eight strikeouts for his second win. The Bulldogs only amounted four hits in the game. Redshirt senior Michael Hartnagel's 32-game on-base streak came to an end after an 0-4 performance.
Seton Hall scored their winning run in the third after an Al Molina sacrifice fly, but Rob Dadona continued his slugging streak with a two-run home run in the fifth inning. Dadona had two of his three home runs in the series. Butler junior Sam Hubbe took the loss after allowing three runs and seven hits over four and two-thirds innings.
In game three, the Bulldogs scored two runs in the first inning after Garrett Christman tripled to score Parker and senior Tyler Houston. The Pirates would tie it up in the third inning and take the lead in the fourth, but a Houston home run to left and junior Connor Dall would score Hartnagel to take the lead back, 4-3, in the fifth inning.
The Butler bullpen would falter in the eighth inning, however. Seton Hall took the lead for good after Casey Dana hit a three-run home run. The Pirates bullpen would hold the Bulldogs off the scoreboard to finish the game. Seton Hall reliever Andrew Politi took the win while Butler junior Josh Walker took his first loss of the season.
The Bulldogs are back in action on April 24, when they play at Indiana University-Kokomo with a 6 p.m. start. Butler will host Miami University on April 25 and have a two game series versus Illinois State beginning on April 28.
Photo via Butlersports.com