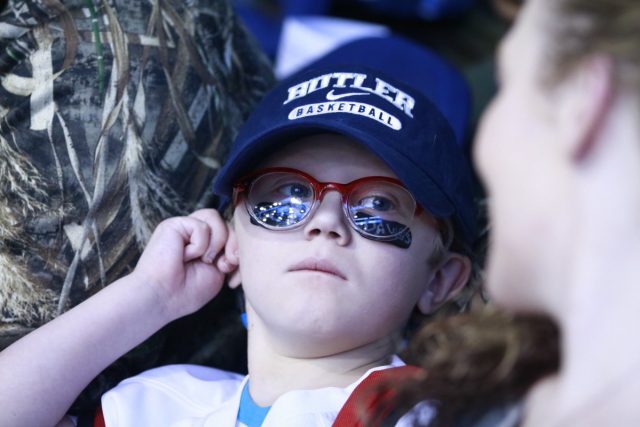 By Kelan Martin
Signing a national letter of intent is a very exciting moment. It is a special time in anyone's life, but it is extra special when you sign as a 7-year-old.
Seth Dennison is a young boy who signed his name as the newest member of the Butler men's basketball team on January 4. Dennison was born with a rare chromosome deletion, which causes severe health problems such as autism. He and two others are the only ones in the world to be diagnosed with this rare disease. Dennison was diagnosed with the illness when he was only a year old. He spent nights in and out of hospitals, undergoing different tests. He carries around a backpack with him everywhere he goes for 20 hours a day. The backpack has feeding tubes.
Last year was difficult for Dennison and his family. Nineteen days before New Year's Eve, he was in the hospital while dealing with severe health complications. His mother was not sure if he would make it, but he came home on New Year's Eve and reunited with his family.
While he was dealing with this illness, Dennison and his family were contacted by "Friends of Jaclyn", which started with former Butler men's basketball head coach Thad Matta. Matta used to work with this national foundation at Ohio State University. It aims to improve the quality of life of children living with childhood cancers and diseases by pairing them with sports teams. Matta and his wife Barbara helped connect Dennison and his family to the Butler program.
Dennison held a press conference in Hinkle Fieldhouse's Wildman Room on January 6. The press conference, which featured his mother, father, brother and sister, was held days before the Bulldogs played Seton Hall University at Hinkle.  He signed his national letter of intent and is now a part of the Butler men's basketball team. During the Seton Hall game, he spoke to the crowd and Friends of Jaclyn founder Denis Murphy during a timeout.
He has his own locker in the locker room with the other players, he attends all of the home games and is with the team after each game in the locker room.
Below are a few photos of Seth at the Seton Hall game:
Photos Courtesy of Jimmy Lafakis