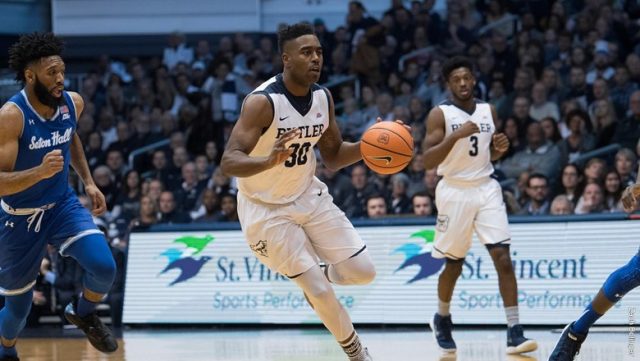 Photo Courtesy of butlersports.com
By Cisco Scaramuzza
Despite facing a short-handed Seton Hall squad, Butler fell in their last regular season game to the Pirates last night.
Struggles in consistency once against plagued the Bulldogs, as Kelan Martin was able grab 35 points, but Tyler Wideman would follow in the standings with a dismal 10 points, and Kamar Baldwin with 9.
The Pirates were missing two of their seniors, Desi Rodriguez and Ish Sanogo, but despite the smaller squad, managed to continue their late season push. Both Khadeen Carrington and Angel Delgado had 20+ point games, and carried the Pirates to a senior night win at home.
Whatever changes the Bulldogs need to make, it'll be Groundhog Day-esque, as Butler will take on Seton Hall in the quarterfinals of the Big East Tournament on Thursday.
So what do the Bulldogs need to turn things around against the rest on the Conference in New York?
They need the ball to go into the hoop.
WAIT, before you click off this, let me explain.
Kamar Baldwin came off the St. John's game shooting 3-of-14, and didn't do much better in New Jersey. The same can be said for Paul Jorgensen. While he has been shooting decent off the bench, he still only netted 2 points last night.
Combine those stats with having to travel to New Jersey after a LOOOOOOOOOOONG double overtime game on Wednesday, probably means the Dawgs had a big dose of jet-lag last night.
The best thing coming from Saturday is that the team should be back home Sunday night. That, in theory, gives them two to three days rest at home, as well as some time to re-group.
While there will be plenty of film to look at from the game, Butler needs to adapt, and see if they can bring some life into the rest of the team.
Watching this Butler team this year, I think they need to get back to their roots. Yes, when Jorgensen is hitting 3's from the parking lot, it's a good game, but I think disconnects result from relying on those deep shots.
To win in New York, Butler needs to bring some old-fashioned Indiana basketball to the Garden.