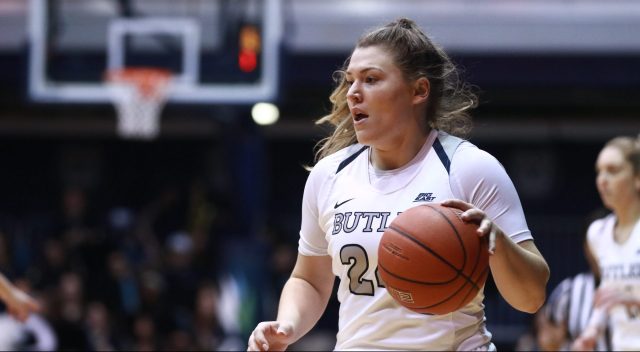 By Zach Sterrett
The Butler Bulldogs won a tight game in overtime against the Xavier Musketeers inside Hinkle Fieldhouse on Friday night.
The 63-61 overtime win improves the Bulldogs to 15-6 on the season and 7-3 in BIG EAST play, while sweeping the season series against the Musketeers. The loss pushes Xavier further down the BIG EAST standings as the Musketeers fall to 1-9 in conference play, and 2-19 on the season.
Butler led by five points with 45 seconds left in regulation. However, following a missed free throw by Bulldog Forward Shae Brey and two huge 3-pointers from Xavier's Morgan Sharps, Freshman Oumou Toure found herself at the free throw line in a tie game with five seconds left. Toure could not capitalize on the chance, missing both of her free throws, sending the game into overtime.
Xavier took a five point lead early in the overtime period. The lead would not last for the Musketeers as Senior Forward Kristen Spolyar scored eight of Butler's 10 overtime points to lead the Bulldogs to victory. The Bulldogs leading scorer scored five straight points in the final 52 seconds of overtime to push Butler out in front.
Spolyar notched a double-double with a game-high 25 points to go along with 11 rebounds. Meanwhile, Toure filled up the stat sheet adding nine points, seven rebounds, four steals, three blocks, and two assists.
For Xavier, the Musketeers had five players record double figures in points, with Ayanna Townsend leading the way with 14 points on 60% shooting to go along with eight rebounds. Townsend was complemented by Lauren Wasylson who shot 4-8 from 3-point range to notch 12 points.
The Bulldogs get another home contest against Georgetown on Feb. 7th at 7 p.m. to continue BIG EAST play.