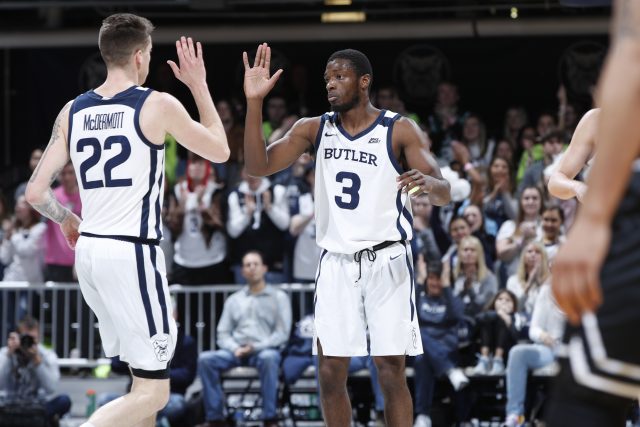 Butler's men's basketball season, along with all other winter and spring sports, was cut short due to the ongoing pandemic. This feels like a major lost opportunity for the Bulldogs, as they had by far their most successful season in head coach Lavall Jordan's three-year tenure at Butler. The team finished the regular season ranked #23 in the country after downing Xavier in the regular season finale. They were hours from tipping off at Madison Square Garden for their first round Big East tournament game against Providence when the tournament was cancelled.
This lost championship season leaves a lot of what ifs and a lot of questions for Butler to answer going in to next season. Mainly, the fact that the team is losing two of its biggest contributors, Kamar Baldwin and Sean McDermott, as they are seniors. The NCAA ruled that all spring athletes affected by the cancelled seasons will be granted an extra year of eligibility. Unfortunately, winter athletes who did not get to compete for their conference or national championships were not granted the same thing. So, Butler's men's basketball program has to move without their departing seniors. The question is: how much of a difference will not having Baldwin and McDermott on the team next year have?
Kamar Baldwin
Baldwin has been the unquestionable captain of this Butler squad for at least two years. He made an immediate impact his freshman year, hitting a last minute, game-winning shot against Northwestern. For the next two years it was the Baldwin and Kelan Martin show. When Martin graduated in 2018, it was Baldwin's opportunity to step in to the spotlight, which he did, often putting the team on his back while being the consummate leader the team needed. His senior season this past season, he took the mantle as not only one of the best all around players in the Big East, but one of the best in the country. He was on the preseason Naismith Award watch list. He led the team averaging 16.2 points per game. He was also third on the team in rebounds per game (4.6), despite being the second shortest player on the team at 6'1″, only ahead of Junior Guard Campbell Donovan at 5'11". This was due in part to Baldwin being a workhorse, playing in all 31 games this season and averaging over 31 minutes per game. Baldwin's value also came on the defensive side of the court. He led the team in steals this season with 34 and was second in blocks with 17. Baldwin's value on both sides of the court, along with his value in being able to run the floor when point guard Aaron Thompson was injured, cannot be overstated. He led this team from modest preseason expectations to being a potential contender if March Madness were to happen.
Sean McDermott
The other big departure for this Butler team is redshirt senior Sean McDermott. For all intents and purposes, this past season McDermott was the second biggest contributor on offense behind Baldwin. He was second on the team in points per game (11.7), second in rebounds per game (6.3; only behind Bryce Nze at 6.6), led the team in three-point field goals, minutes and free-throw percentage. He hit at least three three-pointers 11 times this season, including shooting 7-10 from beyond the arc in a win against Georgetown on January 28.
The reality is Butler is losing probably their two best players from this past season. There are so many unanswered questions with the premature end to the season, but Coach Jordan needs to answer this one if the Bulldogs want to replicate this year's success next season: how do you replace these two guys both on and off the court? We will have to wait and see.