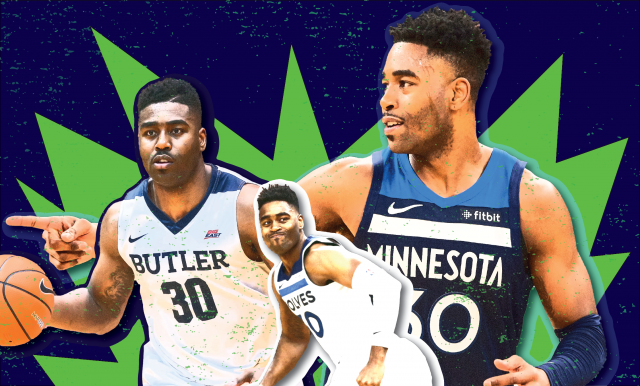 Kelan Martin is living out his biggest dream. Despite climbing his way to the second all-time scoring spot in Butler basketball history, he went undrafted in the 2018 NBA Draft. Still, he kept fighting.
Following a brief stint with the Utah Jazz in the Summer League, the Bulldog great relocated to Germany to play for Riesen Ludwigsburg. In 27 games, Martin averaged almost 14 points per game. His performance was rewarded with another chance in the Summer League, this time with the Minnesota Timberwolves. With a more refined and versatile game, Martin earned a two-way contract with the team.
Butler 360 Sports got the chance to sit down with Kelan Martin to hear about his whirlwind journey to the NBA.
Following your short time with the Jazz, you signed a contract with Riesen Ludwigsburg in Germany. What did that experience teach you about yourself?
I think the first thing I realized was that I had to get my body in basketball shape. There's a difference between being in shape and being in basketball shape. Once I noticed that, I saw my game elevate. Both Germany and my first year of Summer League were learning experiences. I learned the game as a student by just watching other basketball games and being able to breakdown current situations. I learned how to mature and develop as a person/player on and off the court.
Following the season in Germany, you performed well last summer with the Timberwolves. What was your mindset going into those games?
Well my expectations going into summer league was to dominate everything and to be an all-around player. A player that can defend multiple positions, shoot the three-ball, get to the free-throw line, or to the basket. Basically I wanted to show that I was a player that can play both sides of the ball, and will just come in to compete. Knowing that I had experience from my first summer league, and playing in Germany it made things a little easier. Once I knew I could play in the NBA, it kind of hit home because it was weird from coming overseas to the NBA.
You then signed a two-way contract, allowing the Timberwolves to either have you with the NBA team, or the G-League affiliate. Was the limbo of that situation hard?
I think you have to be very dedicated to be a two-way player. It requires a lot of traveling, like taking commercial flights at 6AM. It's tough, but I managed to find a way. The difference between the NBA and G-League is experience. Some people don't know how to play real basketball in the G-League compared to the NBA. In the NBA, there is a lot of space to operate. Sometimes in the G-League, players don't know how to space the floor and it just clogs up the court on offense and it makes it harder to score.
Is there a moment where it sunk in that you had achieved your dream?
I think my first moment when I realized I've made it was when I started against the Milwaukee Bucks on New Years Day. My task was to guard Khris Middleton, along with Greek Freak and others. The very next day I started against the Golden State Warriors, and Draymond Green said a few words after the game saying "Keep going man", so I felt like I made it at that point. Obviously, I still have a lot to develop with my game, but I still think it's so much fun to go up against superstars in the league.
Obviously, the season has been cut short due to COVID-19. What has life been like for you since the shutdown?
Once I found out the season was suspended, I was already at Karl-Anthony Towns' house, so he told me to stay there while the virus is going on. So since I've been here, I usually workout for 2 to 2.5 hours a day lifting, cardio, playing ball, and getting in the sauna that he has at his house. During the week, we have a few Zoom workout meetings, film with our coaches and/or a speaker guests talks with our team on Zoom. I've also been staying in contact with my family making sure everyone is safe and playing video games.
---
Despite the NBA's suspension, Kelan Martin has already made a name for himself in the league. He had a career-high 21 points against the Denver Nuggets in February, and played in nine straight games for Minnesota leading up to the pause in play.
If you want Butler sports content, Butler 360 Sports is the go-to place! Keep checking back for the latest news, updates, and articles covering everything from basketball to lacrosse.