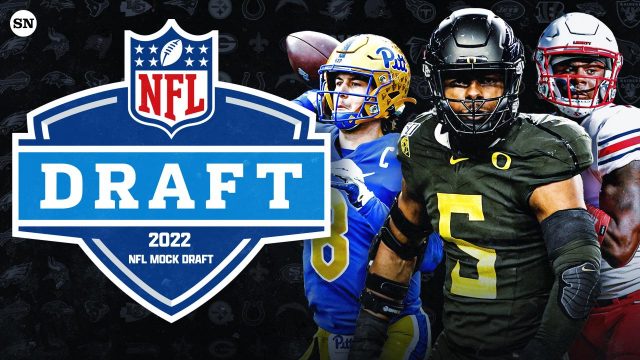 The 2022 NFL Draft is right around the corner, making it the perfect time to drop some top ten predictions for the rising prospects.
Jacksonville Jaguars
On the clock to start the draft is once again the Jacksonville Jaguars. Following a dreadful season riddled with coaching gossip, developing rookies, and injuries, the Jags ended on a high-note with a major, upset win against the Indianapolis Colts to block their division rival from seeing the postseason.
So where does Jacksonville go now? An offensive-lineman to protect last year's 1st overall pick, Trevor Lawrence? A powerful pass-rusher to build a strong foundation within their lowly defense? A versatile defensive-back to replicate the role of former Jaguar, and all-pro, Jalen Ramsey? Jacksonville certainly has plenty of options on the table. 
The Pick: Aiden Hutchinson (Edge)
While reports of Georgia star Travon Walker rising up the draft boards are circulating, the Jaguars play it safe with the Michigan standout. With Hutchinson, the Jaguars add to their budding defensive-line that already has K'Lavon Chaisson, Arden Key, and Josh Allen, making it a group of athletes that can terrify opposing quarterbacks and offensive lines.
Detroit Lions
Similar to the Jaguars, the Lions could go in a few different directions with their first pick. Some believe Oregon pass-rusher Kayvon Thibodeaux is falling, while others think he is still an option for Detroit. Freak athletes like Kyle Hamilton and Travon Walker also remain viable options for the Lions to add to their struggling defense.
The Pick: Kayvon Thibodeaux (Edge)
Despite the rumors, Thibodeaux still goes in the top two of this year's draft. His dominance at Oregon, as well as his NFL ceiling, make him irresistible to the Lions who are desperately seeking a strong edge.
Houston Texans
Houston, we may not have a problem. With so many positions to fill, the Texans can pretty much do anything they'd like with this pick. They could go with quarterback protection, such as Evan Neal or Ikem Ekwonu, or go in the opposite direction and build on defense with either Kyle Hamilton, Travon Walker, or Ahmad Gardner.
The Pick: Kyle Hamilton (DB)
Hamilton's versatility and play-making ability makes him the pick here for Houston. Not only will he be able to add a punch to an inferior defense, but he will generate leadership in the secondary with his prominence, something Houston needs for their culture.
New York Jets
With Thibodeaux and Hamilton off the board, the Jets should look at addressing their offensive line. While Mekhi Becton is expected to be back next season, his durability is now in question. The Jets must protect Zach Wilson if they expect the 2nd overall pick to progress in the right direction.
The Pick: Ikem Ekwonu (OT)
Ekwonu has been creating buzz around the Jet's headquarters, supposedly. With Ekwonu, New York would be adding a mean machine to their line, similar to Quenton Nelson's impact with the Colts.
New York Giants
This pick should be a no-brainer for the Giants. Like the Jets, the Giants need to add protection for Daniel Jones. Adding Mark Glowinski in free agency, while a productive move, is not enough.
The Pick: Evan Neal  (OT)
Neal gives the Giants what they need on the offensive front. Adding the Alabama product should be able to help Andrew Thomas develop and blossom as a solid right tackle. Neal also will give Daniel Jones the chance to show new head coach, Brian Daboll, what he can do with the offense.
Carolina Panthers
The Panthers just cannot seem to find their quarterback. After signing and releasing Teddy Bridgewater, trading for Sam Darnold, and flunking on the Deshaun Watson trade, Carolina looks to finally land the quarterback of their dreams. And with just their luck, they get the first choice.
The Pick: Malik Willis (QB)
Willis has easily separated himself as the top quarterback in this draft class. His arm strength, pocket escapability, and energy all replicate a combination of Josh Allen and Lamar Jackson. The Panthers hand over the keys to Willis to lead the team back into the playoffs. 
New Orleans Saints (Mock Trade with Giants)
Many NFL executives believe the Giants will look to trade one of their first round picks, and the Saints make perfect sense for this scenario. New Orleans, who just acquired another first round pick in a trade with the Eagles, seems to be preparing a jump in the draft, most likely to take a quarterback
The Pick: Desmond Ridder (QB)
Ridder may not be high on many public draft boards, but sources say the Cincinnati quarterback has a first round grade from nearly every NFL team. The Saints taking Ridder as seven may seem a surprise, but don't be too shocked if it happens.
Atlanta Falcons
The Falcons seem to be in a whirlwind of not knowing what to do right now. Do they draft a quarterback? Take a pass-rusher? Fill the void left by Calvin Ridley's suspension and Russell Gage's departure? Marcus Mariota's relationship with Falcon's Head Coach Arthur Smith speaks volumes in this situation, making a quarterback seem unlikely with their first-round pick. However, that still leaves more options to choose from to add to the current rebuild.
The Pick: Drake London (WR)
Losing Ridley and Gage takes the dynamic out of the Falcon's offense, even with Kyle Pitts and Cordarrelle Patterson (they cannot do it all). London will provide a solid foundation to Atlanta's poor receiving corps.
Seattle Seahawks
After the Russell Wilson trade, it is still unclear as to what Seattle thinks about Drew Lock. Lock rarely impressed during his time at Denver, yet there are reports that the Seahawks specifically wanted Lock in their haul for Wilson back in March. It is this rumor that makes taking a quarterback here improbable.
The Pick: Ahmad Gardner (CB)
The Seahawks get lucky at pick number nine and are able to select an amazingly athletic cornerback that may be the next Jalen Ramsey. Gardner can serve as a defensive foundation for years to come while Seattle continues its rebuild. 
New York Jets
Assuming a Deebo Samuel trade does not happen, the Jets seek to add another weapon for Zach Wilson. With London off the board, New York has a few options. Garrett Wilson and Chris Olave both present as day-one starters, while athletes like Jameson Williams will need to continue rehabilitation for injury, but still have the potential to produce.
The Pick: Garrett Wilson (WR)
Playing it safe, the Jets create a Wilson-to-Wilson connection in New York. Wilson, who dominated at Ohio State, will allow the other Wilson to develop in his second season and create a dangerous offense for the Jets.