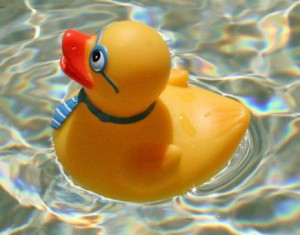 Make a splash! New students and their families are invited to participate in the annual Welcome Week Duck Drop at Irwin Library on Saturday, Aug. 22 from 2:00-4:00 pm!

Sponsored by the Butler University Libraries, the Duck Drop is a chance to cool off, have some fun, and perhaps win some Butler swag.
Each new student gets to select 3 rubber duckies to throw into the library's fountain from the 3rd floor.  If you hit three targets, your name is entered in a drawing for a gift basket.
The library will also have free frozen treats for everyone.  We hope to see you there!