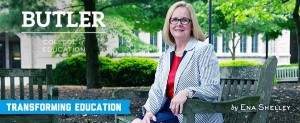 Dear Friends,
This is a special edition of my monthly Dean's Newsletter. It serves as a vehicle to deliver the College of Education's annual Year in Review magazine. In the digital pages that follow, I hope you will savor the passion, innovation, and dedication to our chosen professions that are described by our students, faculty, staff, and alumni through stories of the past year.
While I hope you enjoy every word, I also challenge you to send this link, along with a note, to 2 people:
A policymaker who represents your state or community. All too often the good news in teacher education is not shared with those who ultimately make the laws regarding schools. Let's change that.
A high-school-age student you think would make an outstanding teacher. After all, we are the custodians of our profession and without us hand selecting our future colleagues we jeopardize the education of our rising generations.
Thank you for taking the time to celebrate this past year with us, and we look forward to you joining us to celebrate our newest accomplishment—the beautiful new South Campus home of the COE. Our official ribbon cutting and reception will be on Friday, September 28 beginning at 4:45 PM. You can use the Homecoming website to register your attendance.
Until next month,
Dr. Ena Shelley
Dean, College of Education
Editor's Note: This year the annual Year in Review publication is being delivered electronically whenever possible in order for us to be good stewards of both environmental and financial resources. however, if you require a printed version, a limited number of copies will be available through the COE Office. You may reply to this email with your request.