The Impact of Experiential Learning on a Global Educator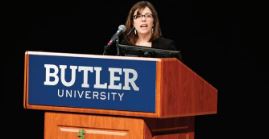 Global educator, Katie Moore '08, was invited to deliver remarks at Butler's annual State of the University Address in the fall of 2018. Katie's work in international education for the Peace Corp and the United Nations has taken her to places such as Fiji, Sierra Leone, Mozambique, Republic of The Gambia, New York City, and other places around the world. Katie spoke about how her experiences at Butler not only prepared her for what she would do with her education, but also how she approaches her career and with whom she would work.
Here is a portion of Katie Moore's speech:
Experiential learning opportunities allowed me and my classmates to learn by doing. We were not sitting and waiting for our turn to be part of the "real world" to understand the dynamics of our field, but we were building up our abilities to navigate dynamics in real-time while being students, while being guided and supported by peers and professors. The COE sets itself apart by enabling students past and present, including myself, to have experiences in the classroom and other educative settings from introductory classes onward. While many colleges of education only are able to support student teaching for one semester at the very end of their program, being in the classroom from my first year on campus confirmed my passion for a career in education and allowed me and peers to enhance both our skills and our understanding of our professional identities as educators over time.
Butler COE professors and the strategic way our COE program was designed did not only drive the experiential learning, but the professors gave students the opportunity to shape their own learning experiences. When studying how to teach history, one of my classmates and dearest friends, Jacquelyn Klein Watts, with support from Dean Shelley, organized our class to participate in "Follow the North Star" at Connor Prairie in lieu of a traditional textbook history lesson. This led to fruitful conversations about the time period, but also to critically examining how historical narratives are formed, how these narratives continue to shape socioeconomic dynamics today, and reflection on how our personal histories are intertwined with broader societal dynamics. This has experience has stayed with me today and allows me to reflect on my career in international educational development; that my choice to travel internationally as part of my work is, indeed, a choice. Many people don't have this choice; it is for survival.
The experiences were not limited to the classroom setting, or even Indianapolis. Based on the interests of the students, the country and world could be our classroom. As a Butler student, I had the privilege of participating in a study trip to Reggio Emilia, Italy to see state-of-the-art early childhood education approach that follows and documents the interests of the child. I also had the privilege to travel with Professors Valliere and McGrath to Latvia with the Center for Faith and Vocation. During this experience, we learned how religion was able to reemerge after the fall of the Soviet Union. And, it was during this experience that we also learned about consultative processes that are crucial to the work that I do today with country stakeholders such as those working for and with governments, community leaders, parents, and children.
From these experiential learning opportunities while at Butler and afterward as an alumna, I have appreciated that the most impactful learning experiences were those that were not only theoretical, but practical and relational, allowing us as students, or as an alum interacting with current students, to make connections between the content, our lives, the world, and its diverse people. This has influenced my openness to the type of learning experiences I have been able to engage in throughout my career to date in international educational development in global contexts.
Listen to Katie's full speech online: bit.ly/KatieMooreSOTU