Pi Kappa Delta, a national honorary society for intercollegiate forensic programs, has chartered the Butler Speech and Debate Team as its new IN Zeta chapter.
Members Marcus Harvey, Ciara Williams, Maggie Smith, and Jeremy Washington, and faculty advisor Janis Crawford represented the team when Butler was inducted during the Pi Kappa Delta (PKD) National Conference Tournament last week in St. Louis. Alumni Lauren Lupkowski '12 and Greg Moser '07 also attended as judges at the society's 100th anniversary tournament.
Crawford, who is director of forensics in the College of Communication, was nominated and elected as Governor of PKD's Heartland Province. For the next two years, she'll oversee communication, leadership, and growth of the province, which includes 22 school chapters in six states.
"I am very excited about the opportunity and national visibility that this position will bring to Butler University," she said.
PKD is a division of the National Communication Association (NCA). Crawford said that she has already proposed that NCA convene a panel to examine the role of the PKD governors and how they can help expand and develop the organization's six provinces.
"PKD is committed to 'Persuasion, Beautiful and Just,' and, as such, we will be focusing on education and service for our students," she said. She expects the panel to be approved for action in 2014.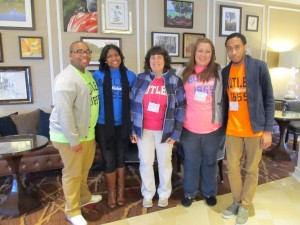 Butler will work with the University of Indianapolis and IUPUI to co-host Pi Kappa Delta's national tournament in Indianapolis in March 2014.