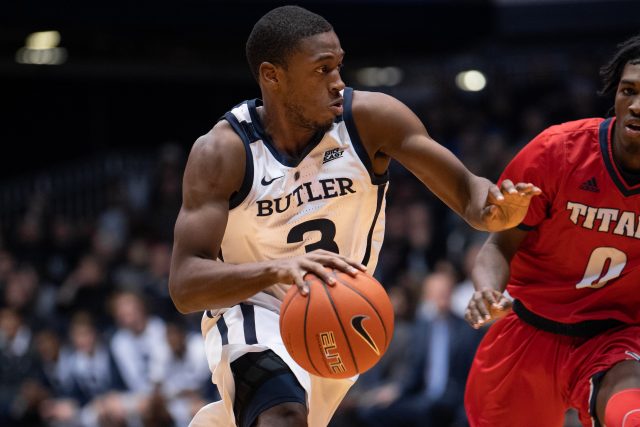 Male and female athletes all around Butler University had standout years this past season. Players who made this list were instrumental to their team's success and were usually some of the best players in the BIG EAST in their respective sports.
Honorable Mentions:
Brandon Guhl (Men's Soccer)
Tallied nine goals to lead the Bulldogs to go along with three assists. Named the BIG EAST Offensive Player of the Week in after scoring and assisting in the regular-season finale against Xavier.
Euan Makepeace (Men's Track & Field)
2020 Indoor Track & Field BIG EAST Champion for the 3,000-meter and 5,000-meter events. Named the 2020 Indoor Track & Field BIG EAST Most Outstanding Track Athlete.
5. Anna Logan (Women's Volleyball)
After being a First Team All-BIG EAST selection in 2017 and following a medical redshirt season in 2018, Logan returned to play all 115 sets for the Bulldogs. The Senior recorded 302 kills and 352 digs which were good for first and second-best on the team, respectively. Logan also led the team with 29 service aces and added 121 assists and 70 blocks. Logan was crucial to her team's success this year as she had standout games against Auburn (18 kills, 16 digs) and Western Michigan (17 kills, 19 digs) early in the season.
4. Jack Haywood (Men's Soccer)
Coming off of a stellar 2018 freshman season that saw Haywood named to the BIG EAST All-Freshman Team and co-lead the Bulldogs in assists, the central midfielder somehow got better. The sophomore more than doubled his assist total from last year by tallying nine assists this year to co-lead the entire BIG EAST. However, even with a stellar 2019 season, Haywood still has room to grow as he did not record a goal last season. If the rising junior can become a goal-scoring threat than expect Haywood to take his game to another level next season. Senior Brandon Guhl's departure means that goals will have to come from someone else next year, expect Haywood to step up.
3. Katie Soderstrom (Women's Soccer)
If anybody on this list deserves Most Improved Player honors, it's Katie Soderstrom. Coming off a 2018 season in which Soderstrom started just eight of 20 games for the Bulldogs, the sophomore started all 19 games at forward for Butler. Soderstrom did not disappoint with this new starting role as she led the team with seven assists and co-led with eight goals. Soderstrom tied for fifth in the BIG EAST in assists and game-winning goals (3). The stellar season earned Soderstrom All-BIG EAST First Team and CoSIDA Academic All-District First Team honors. As a sophomore, Soderstrom is not even close to her peak potential yet, expect at least double digits in goals or assists next season as she leads the Bulldogs once again.
2. Kristen Spolyar (Women's Basketball)
Kristen Spolyar had a breakout season as she led the Bulldogs to a 19-11 record last year. Spolyar led Butler with 18.1 points per game and 6.6 rebounds per game. The senior recorded 2.1 assists per game and 2.1 steals per game to finished second on the team in both categories. With these numbers, Spolyar was selected to the All-BIG EAST First Team for the first time in her career. With this breakout year, Spolyar became one of the best women's basketball players in Butler history as she moved up to fourth all-time in scoring, eighth all-time in field goals made, and scored 544 total points which marks the third-highest total in school history. Last season, Spolyar led Butler in scoring 22 times and tied the Butler single-game scoring record with 37 points against Detroit Mercy.
1. Kamar Baldwin (Men's Basketball)
The number one slot is reserved for none other than Kamar Baldwin who has arguably been the face of Butler sports for the past two years. The Wooden Award and Naismith Trophy watch list selection led the Bulldogs once again this season to a 22-9 record and a #5 national ranking at the beginning of January. Baldwin backed up the Preseason All-BIG EAST First Team selection by tallying 16.2 points per game to go along with 34 steals to lead the Bulldogs in both categories. In classic Baldwin fashion, he once again had clutch performances as he hit game-winning shots against Stanford, Villanova, and fittingly, capped his college career off with his final shot being a game-winner against Xavier. The very impressive senior season pushed Baldwin up the Butler all-time ranks to fourth in scoring, third in steals, and seventh in assists. Baldwin will surely be missed in the years to come but another face of Butler Men's Basketball will present itself soon.