Help us celebrate Open Access Week 2014!
As we begin Butler University Libraries' first annual celebration of Open Access Week, October 20 – 24, 2014, we would like to invite you to the Public Domain Movie Festival and the Open Access Roundtable. Read on for more information…
Public Domain Movie Festival
Everyone is welcome! We're hosting screenings of some great public domain films, replete with snacks and sodas. Schedule is as follows:
Monday: His Girl Friday, 7-9pm, Great Books Room, Irwin Library
Tuesday: The 39 Steps, 7-9pm, 007, Irwin Library
Wednesday: Night of the Living Dead, 7-9pm, Great Books Room, Irwin Library
Thursday: The Internet's Own Boy: The Story of Aaron Swartz, 7-9pm, Great Books Room, Irwin Library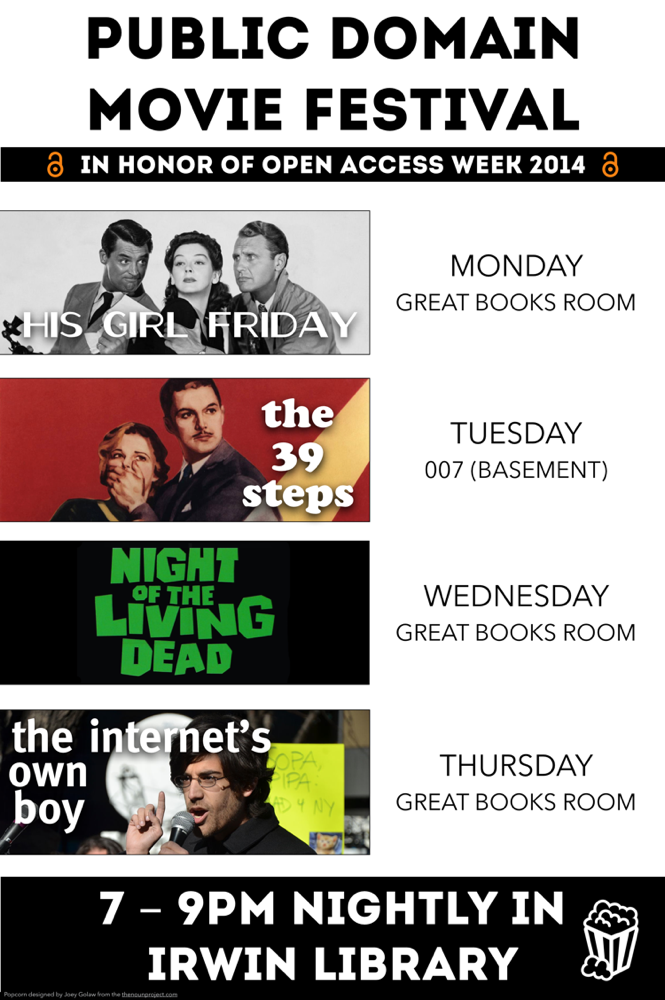 Open Access Roundtable
Please join us for a collegial discussion about Open Access, author's rights, data management, and Digital Commons! Answer your burning questions…
Is this "open access" journal a scam? Why do they want me to pay them?
I wrote this article earlier this year. Can I post it on Moodle?
Why should I be interested in Digital Commons when I have this Academia.edu account?
Friday, October 24, 2014
2:00 – 3:30pm in the Great Books Room
Light refreshments provided
What is Open Access (OA)?
OA is a movement that makes scholarly research free to access, re-use, and redistribute on the web.
How can I make my work Open Access?
OA is a blanket term for a variety of publishing and hosting avenues with the ultimate goal of making scholastic work freely available. The Digital Commons @ Butler University is an archive for the scholarly and creative output of the Butler University community. If you're already as part of Digital Commons, now is a great time to update your profile! Contact fgaede@butler.edu for more information. Alternatively, you may be interested in publishing in one of the many peer-reviewed OA journals. For more information, visit the Directory of Open Access Journals.
Fight for your (authorial) rights!  
When you sign a traditional publication agreement, you give up all your rights to the journal. Sometimes they'll give you back permission to send a limited number of copies to colleagues. Sometimes you can post your article in Moodle. Sometimes you can publish parts of your article in a future essay. But sometimes you can't. If you want to ensure wide exposure for your article and keep these those key rights, come talk with your Scholarly Communication Librarian, Franny Gaede, for more information on  how to negotiate those Copyright Transfer Agreements.
Is Open Access just for publications?
No! A variety of scholastic, professional, and creative output can be made freely available. Are you keeping your research data on a hard drive in your closet? Make sure it's preserved by making it available in Digital Commons and share it with researchers around the world! Many major grant-making agencies require a data management plan as part of the application process; ask BIRS if Digital Commons is right for you.
For more info regarding Creative Commons Licensing, click here
To request disability-related accommodations or inquire about accessibility, please contact Franny Gaede at 317-940-9711 or fgaede@butler.edu.  Please provide us with as much advance notice as possible.  All attempts will be made to provide a reasonable accommodation for this event.
Follow the library on Facebook: www.facebook.com/butlerlib
Follow the library on Twitter: @ButlerLib